10 Domains Seized in Latest Action
Published on May 24th, 2011 12:49 am EST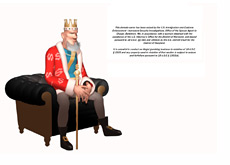 The Department of Justice, via the United States Attorney's Office for the District of Maryland, has struck again.
Earlier today, the Department of Justice posted a press release on their site titled "Operators of Internet Gambling Sites and Their Businesses Indicted for Running Illegal Gambling Businesses and Money Laundering." Similar to "Black Friday", the Department of Justice revealed that bank accounts and domain names had been seized as part of the action.
Pursuant to court order, the following domain names were seized:
Bookmaker.com
2Betsdi.com
Funtimebingo.com
Goldenarchcasino.com
Truepoker.com
Betmaker.com
Betgrandesports.com
Doylesroom.com
Betehorse.com
Beted.com
Doylesroom.com and Bookmaker.com will probably jump out at you from this list. It's interesting to note that Doyle Brunson cut ties with Doylesroom.com just a few short days ago.
The DoJ press release revealed that Homeland Security Investigations in Baltimore, Maryland actually opened up an "undercover payment processor business" called Linwood Payment Solutions. According to the release, Linwood Payment Solutions processed over 300,000 transactions from December 2009-January 2011. The 300k+ transactions were used to build the case against the two companies (ThrillX Systems, Ltd., dba BetEd and K23 Group Financial Services, dba BMX Entertainment) and three individuals that were named in the indictments. The DoJ alleges that these companies utilized the services of Linwood Payment Solutions.
--
Another action from the DoJ seems like an inevitability at this point - which site(s) will be the next to find themselves in the crosshairs of the government?
Source: Baltimore Sun -
Baltimore feds target Internet gambling sites
--
Filed Under:
Poker Legal Issues