FTP, GBT, DoJ Continue to Hammer Out Final Agreement
Published on January 17th, 2011 4:31 pm EST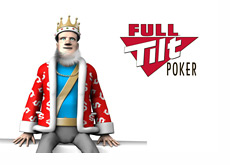 Itís been over nine months since the US Department of Justice dropped a nuclear bomb on the online poker world on ďBlack FridayĒ, and nearly seven months since the last hand was dealt on Full Tilt Poker. Players from all over the world have been patiently (and impatiently) waiting to hear word as to when they will be receiving their balances back from the site, and when Full Tilt Pokerís doors will re-open.
Full Tilt Poker has taken its trapped customers on a rollercoaster of emotions over the past nine months. There were times when the situation looked unbelievably bleak - so bleak, in fact, that there was real doubt if any of the siteís customers would ever see one cent of their money back. In the summer, a White Knight appeared in the form of Groupe Bernard Tapie, who has been trying to seal a deal to acquire Full Tilt Poker ever since.
The Full Tilt Poker deal is obviously a complex one. Once GBT completed their due diligence and decided that they wanted to move ahead with purchasing Full Tilt, they needed to work out a deal with the DoJ to acquire Full Tilt Poker.
On top of that, Full Tilt Pokerís shareholders had to consent to forfeit ALL of the companyís assets to the Department of Justice, who would then turn around and sell all of the assets back to GBT.
These two steps have been completed. GBT and the DoJ have agreed to the framework of a deal that would see GBT acquire the Full Tilt Poker assets, and Full Tiltís shareholders have agreed to forfeit the assets of the company to the Department of Justice.
At this point, lawyers for Full Tilt Poker, Groupe Bernard Tapie and the Department of Justice are reportedly still working out the details and putting the deal to paper. According to a source close to the situation (who asked not to be named), things are ďabsolutely on trackĒ and continuing to move forward.
Itís easy to treat comments like these with a healthy dose of skepticism, especially considering the fact that nobody has received their money back from Full Tilt Poker as of yet. On the other hand, itís easy to see why this part of the deal would take so long, especially when you are dealing with multiple parties (one of which is the US government).
All we can do is sit back and wait for the process to work itself out. As frustrating as the waiting is (especially for those with substantial portions of their net worths tied up on the site), things are still looking much, much better than they were just a few short months ago. Letís hope for some good news over the coming weeks..
--
Filed Under:
Poker Legal Issues