Lederer Gives Interview To Pokernews Following 17 Months of Silence
Published on September 17th, 2012 6:55 pm EST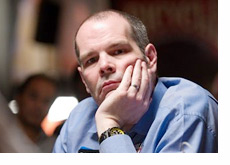 After 17 months of silence, Howard Lederer finally sat down for a lengthy interview with Pokernews.com last week.
Howard Lederer has not given any sort of interview since "Black Friday" took place back in April of 2011. Now that Pokerstars has purchased Full Tilt Poker, Lederer finally seems ready to talk.
According to Pokernews.com, the interview touched on a wide variety of topics and lasted for seven hours. The interview reportedly took place at The Palazzo in Las Vegas on September 8th, 2012.
Pokernews.com will reportedly be posting "six or possibly even seven 30-minute video segments", with the first two parts scheduled to be released on Pokernews.com tomorrow (Tuesday, September 18th).
This interview was conducted just a few short days before the US Department of Justice filed an amended civil complaint which contained new forfeiture changes against both Ray Bitar and Howard Lederer. The DoJ detailed the various assets that Lederer and his wife own in the civil complaint, including a multi-million dollar home and various luxury vehicles.
The DoJ is currently seeking a forfeiture of over $40 million from Howard Lederer.
--
We've heard that this was coming for a while, that Howard Lederer and his friends would try and slowly make the case for "The Professor" to be accepted back into the poker world. Howard Lederer, Chris "Jesus" Ferguson and Ray Bitar all currently enjoy full-fledged pariah status within the poker community right now, so it will be interesting to see if this interview changes anything. It seems like a very tough sell to me.
Source: Pokernews.com -
The Lederer Files: An Introduction
Photo: GreasieWheels.com
--
Filed Under:
Poker Legal Issues
|
Other Poker News