Online Poker Opponent Gets Shut Out After Spending Millions
Published on November 8th, 2012 4:20 pm EST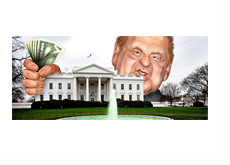 Online poker foe Sheldon Adelson tried to make a big splash in this year's election, shelling out tens of millions of dollars to Super PACs and other outside groups.
In the end, despite reportedly spending $60 million of his own money, none of the eight candidates that Adelson supported through donations to Super PACs were able to win on Tuesday.
Sheldon Adelson, chairman and CEO of the Las Vegas Sands Corporation, has stated that he has a "moral opposition" to online poker. Adelson is a rich, powerful and well-connected man, and his opposition to online poker has certainly damaged the effort to pass a federal online gaming bill in the United States.
--
According to OpenSecrets.org
, Sheldon Adelson and his wife Miriam were the top individual donors to outside spending groups during the 2012 election cycle.
In the end, all of their spending was for naught, as all of the candidates that they were supporting lost on election night.
Source: NYTimes.com -
Little to Show for Cash Flood by Big Donors
Photo:
DonkeyHotey
--
Filed Under:
Poker Legal Issues