Governor Christie Has Said He Will Sign Bill If It Contains Recommended Changes
Published on February 11th, 2013 6:37 pm EST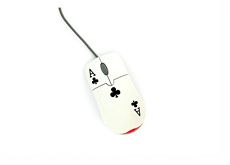 New Jersey lawmakers are expected to vote on a revamped Internet gaming bill on February 26th. Despite the New Jersey Senate not officially convening again until March, lawmakers will be present for Gov. Christie's budget address on February 26th, and a vote on the Internet gaming bill is expected to happen before the Governor's address.
Assembly Bill 2578, which "authorizes Internet gaming in Atlantic City casinos under certain circumstances", made it all the way to Governor Christie's desk before he decided to issue a conditional veto. This was actually very good news for supporters of the bill, as Gov. Christie didn't outright veto the bill, instead recommending several changes before he would sign the bill into law. Those changes included an increased tax rate, the implementation of a 10 year sunset provision for the bill and increased funding for compulsive gambling treatment programs.
These changes are considered "minor", and the revamped bill should easily pass through the New Jersey legislature. Gov. Christie has already said that he will sign the bill into law if it includes his recommended changes.
--
According to PressofAtlanticCity.com, The Office of Legislative Services is currently in the process of drafting a substitute bill that includes Christie's recommended changes.
--
Unless something completely unexpected happens, Governor Christie should sign an Internet gaming bill into law by late winter/early spring.
Pokerstars has already announced their intentions to purchase the Atlantic Club Casino Hotel in Atlantic City in order to gain a foothold into the New Jersey online gambling market. Pokerstars' deal with the DoJ allows the company access into any US market in which online gambling becomes legal.
Source: PressofAtlanticCity.com -
New Jersey Legislature expects to approve amended Internet gambling bill by Feb. 26
--
Filed Under:
Poker Legal Issues