Bill Authorizes Nevada To Enter Into Compacts With Other States
Published on February 23rd, 2013 1:22 am EST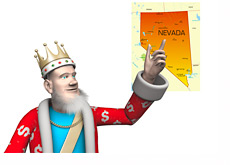 On Thursday afternoon, Nevada Governor Brian Sandoval signed into law Assembly Bill 114, which is a bill that legalizes online gambling in the state of Nevada.
Nevada lawmakers scrambled to pass the bill in order to beat New Jersey to the punch. It is expected that New Jersey Governor Chris Christie will sign an online gaming bill into law later this month.
Gov. Sandoval had this to say after signing the bill into law:
"This is an historic day for the great state of Nevada. Today I sign into law the framework that will usher in the next frontier of gaming in Nevada."
The quick passing of Nevada's online gaming bill was the result of a bipartisan effort.
--
Assembly Bill 114 will allow Nevada to enter into compacts with other states that legalize online gaming. This will allow for much larger pools of players, and it will also allow other states to leverage Nevada's regulatory infrastructure.
Assembly Bill 114 also restricts companies that operated in the United States following the passage of UIGEA from applying for a license for a period of five years. The reason? According to Nevada lawmakers, these companies (Pokerstars, Full Tilt Poker, etc) would have an unfair advantage due to the fact that they already have the information of scores of Nevada poker players in their databases.
--
Despite Assembly Bill 114 being signed into law earlier today, we are still a number of months away from the first legal online real money poker hand being dealt in Nevada.
--
Filed Under:
Poker Legal Issues