Pokerstars Granted Temporary Restraining Order
Published on May 6th, 2013 9:15 pm EST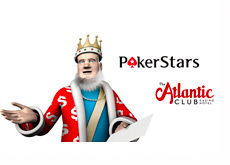 Earlier today, the Rational Group (parent company of Pokerstars) filed a lawsuit in New Jersey Supreme Court in an attempt to preserve their deal to purchase the Atlantic Club.
According to reports, the Rational Group was granted a request for a temporary restraining order, "confirming the continuation of the existing agreement." This restraining order will temporarily prevent the owners of the Atlantic Club (including Colony Capital LLC) from negotiating with other parties. The temporary restraining order lasts for 10 days - another hearing is scheduled for May 17th, when a longer restraining order may be issued.
So what happened? How did the planned deal between the Rational Group and the owners of the Atlantic Club turn sour so quickly?
Let's back things up a bit. New Jersey's online gaming bill stipulates that only Atlantic City casinos can offer online gaming to the people of New Jersey. In order to comply with this rule, the Rational Group agreed to purchase the Atlantic Club, contingent upon the Rational Group being granted an interim license by April 26th, 2013. The purchase price was reportedly $15 million plus the assumption of certain liabilities.
New Jersey gaming regulators said that they would need an extra three months to consider the Rational Group's application, which meant that the deadline passed without an interim license being granted.
The owners of the Atlantic Club contend that the deal has been terminated as a result of the deadline passing, and that they are entitled to a $4 million termination fee (Source: WSJ.com).
The Rational Group, which has reportedly already advanced Colony $11 million to continuing operating the casino while they wait for their interim license, feels differently. The Rational Group filed their lawsuit in an attempt to "restrain the sellers of the Atlantic Club Casino and Hotel from continuing to breach the purchase agreement".
--
The Rational Group is facing pushback as they attempt to enter the New Jersey market. The American Gaming Association, which counts Caesars Entertainment Group, MGM Resorts International and other casino companies as members, publicly opposed the Rational Group's license application earlier in the year.
It's safe to say that the world's largest online poker company is going to face significant opposition as they attempt to gain entry into various US markets.
Source: Pokerstarsblog.com -
Statement Regarding Atlantic Club Action
Source: WSJ.com -
Pokerstars Wins Legal Delay in Casino Fight
--
Filed Under:
Poker Legal Issues