Op-Ed Piece Against Online Gambling Published
Published on December 7th, 2013 3:27 am EST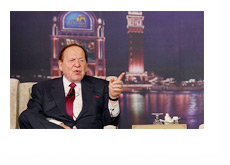 Earlier today, an op-ed piece authored by former Governor George Pataki, former Senator Blanche Lincoln and former Denver Mayor Wellington Webb was published on Thehill.com.
The piece, titled "Congress Must Act to Stop Internet Gambling", was authored by Sheldon Adelson's three hired guns as part of an anti-online gambling campaign that is being orchestrated and financed by the billionaire Chairman and CEO of the Las Vegas Sands Corporation.
Adelson, an extremely influential and powerful figure both in the casino industry and in US politics, has promised to spend a significant amount of money to try and ban online gambling in the United States. Adelson contends that online gambling is a cancer that prays on the nation's weakest and most vulnerable citizens, and that the industry should be completely banned in the United States. Congress, according to Adelson, needs to step in and pass a bill that bans online gambling in the United States.
--
As part of his anti-online gambling campaign, Adelson hired three former politicians (Pataki, Lincoln and Webb) to help push his message.
The first anti-online gambling op-ed piece from Pataki, Lincoln and Webb traveled in familiar territory. The three contend that Internet gambling "ends up destroying lives", and that there are numerous "hidden dangers" that Congress must "immediately address", including the contention that Internet gambling can be used for "money laundering and fraud".
Of course, there was this line as well:
"Allowing Internet gaming to invade the homes of every American family, and to be piped into our dens, our living rooms, our workplaces, and even our kids' bedrooms and dorm rooms, is a major decision."
--
Expect similar articles to keep coming in 2014 as Adelson ramps up his campaign. You can read the op-ed piece by clicking the link below:
Source: Thehill.com -
Congress Must Act to Stop Internet Gambling
Photo:
East Coast Gambler
--
Filed Under:
Poker Legal Issues