Approximately 30,000 in Undisputed Claims
Published on January 23rd, 2014 2:23 am EST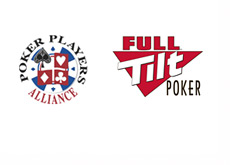 arlier today, the Poker Player's Alliance (PPA) posted the following two messages via their Twitter account (@ppapoker):
"BREAKING: PPA spoke to DOJ today re: FTP remission. Good news 4 those with undisputed claims. Should be receiving payment info from GCG soon"
"BREAKING: DOJ says it completed it's audit of GCG group player petitions. Approved release of 82m in funds to approx 30k players"
--
"GCG" is the Garden City Group, Inc., which is the company that was selected by the US government to serve as the Claims Administrator for Full Tilt Poker's former US-based customers.
As part of their settlement agreement, Pokerstars agreed to pay $731 million to the US government, of which a large amount was earmarked for the repayment of Full Tilt Poker's customers.
Full Tilt Poker's customers outside of the United States received access to their money when the site re-opened in November of 2012, but the site's former US customers have been waiting and waiting and waiting for the claims administration process to run its course.
The deadline to submit Petitions for Remission was Saturday, November 16th, 2013, Since that date, "GCG" has been sorting through all of the petitions and verifying the submitted information against the information in their database, which was provided to them by the US government.
--
According to John Pappas of the PPA, more information about the next stage of the process should be posted on FullTiltPokerClaims.com shortly.
In addition, the 30,000 or so people with undisputed claims should be receiving emails from Garden City Group over the next couple of weeks.
--
Those with disputed claims, as well as former FTP pros and affiliates, should also be receiving more information soon as well.
Source: Twitter.com -
@ppapoker
--
Filed Under:
Poker Legal Issues