"Don't Bet On It" Video Latest From Adelson-Funded Group
Published on April 2nd, 2014 6:23 pm EST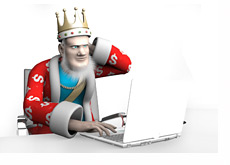 The Coalition to Stop Internet Gambling, which is being funded by Sheldon Adelson, the Chairman and CEO of the Las Vegas Sands Corporation, released their latest anti-online gambling video earlier today.
The Coalition to Stop Internet Gambling is co-chaired by former Gov. George Pataki (R-NY), former Senator Blanche Lincoln (D-AR) and former Mayor Wellington Webb (D-Co). These three people are spearheading Sheldon Adelson's anti-online gambling initiative, with the ultimate goal being the passage of a federal ban on online gaming.
Sheldon Adelson has committed to spending millions of his own money on this initiative, despite the fact that he is going directly against many of his peers in the casino industry.
--
The Coalition's last video, "Don't Let The Games Begin", hit on practically all of the major talking points that anti-online gambling activists have been using for years. In addition, the Coalition tossed in some mentions of Al-Qaida and 9/11 for good measure.
The Coalition's latest video, "Don't Bet on It", focuses on how easy it is (in their opinion) for underage gamblers to gamble online and basically ruin their family's finances. The video, of course, doesn't provide any sort of statistics to back up their claims, nor do they mention the lengths that companies in regulated markets go to in order to prevent underage gamblers from accessing their sites.
--
Here is the latest video from the Coalition:
--
Filed Under:
Poker Legal Issues