Scott Has Ties To Sheldon Adelson
Published on April 4th, 2014 7:42 pm EST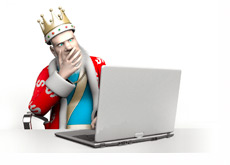 Earlier this week, Florida Governor Rick Scott revealed that he supports a ban on Internet gaming.
Here is what Scott had to say via Twitter:
"Although a national ban would be a better approach, I support a ban on internet gaming in Florida."
With his Tweet, Rick Scott joins Rick Perry (Texas), Nikki Haley (South Carolina) and Bobby Jindal (Louisiana) as Governors who have come out in support of the "Restoration of Americaís Wire Act". Perry, Haley and Jindal have all been rumored for 2016 Presidential bids, and all three politicians would benefit greatly by having Sheldon Adelsonís very considerable financial resources behind them.
Governor Rick Scott has benefitted from Sheldon Adelsonís considerable fortune in the past as well, as Adelson wrote a $250,000 check to Scott's "Let's Get to Work" political action committee in 2012. Scott is now returning the favor by speaking out in support of Sheldon Adelson's campaign to outlaw Internet gaming in the United States via the "Restoration of America's Wire Act" bill, which would seek to restore the Wire Act to its pre-2011 form.
A 2011 ruling by the Justice Department limited the scope of the Wire Act to sports betting, and this opened the door for states such as Nevada, Delaware and New Jersey to offer online gaming in their states. Sheldon Adelson believes that this proliferation of online gaming is contributing to the moral decay of the United States.
--
A couple of political groups, including the National Conference of State Legislatures and the Democratic Governors Association, have come out against the bill.
Source: Miamiherald.com -
Sheldon Adelson Pens 250k Check to Rick Scott
Source: Pocketfives.com -
Florida Governor Rick Scott Supports Internet Gambling Ban
Source: Twitter.com -
Rick Scott
--
Filed Under:
Poker Legal Issues