Launch Plans To Be Detailed in The "Near Future"
Published on October 1st, 2015 4:27 am EST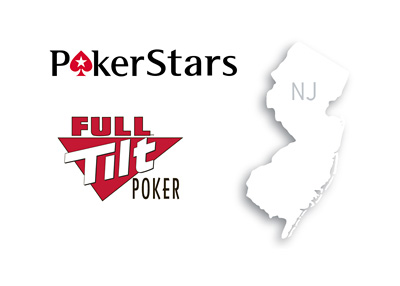 The regulated online gambling industry in the United States got a massive shot in the arm earlier today after New Jersey's Division of Gaming Enforcement approved both Full Tilt Poker and Pokerstars to operate their brands in the state.
According to Pokerstars, New Jersey's Division of Gaming Enforcement conducted a year plus review of Amaya's acquisition of both Pokerstars and Full Tilt Poker. This reportedly included a "detailed review of Amaya's operations and technology, sworn interviews with more than 70 individuals and visits to approximately a half dozen international jurisdictions." According to a Pokerstars press release, this "stringent review found Pokerstars to be under strong, ethical and trusted leadership and management with Amaya, and worth of participating in New Jersey's regulated online gaming market."
Pokerstars has been trying to gain access to the New Jersey for years. In December of 2013, New Jersey's Division of Gaming Enforcement elected to suspend the review of Pokerstars' application for two years, based largely upon the site's continued association with its founder, Isai Scheinberg. At the time, many people felt as though this was just an excuse to prevent the world's largest online poker site from competing with the likes of WSOP.com.
This development nearly two years ago led to the acquisition of Pokerstars and Full Tilt Poker by Amaya, Inc. With a new ownership team, people were confident that Pokerstars and FTP would quickly be granted access to the New Jersey market. This didn't turn out to be the case, as it took over a year for the application to finally be approved.
-
This is a massive development for a number of reasons, including:
1) The upcoming launch of Pokerstars and Full Tilt Poker in the United States will mark the first time since "Black Friday" that legal real money hands of poker will have been dealt in the country.
2) New Jersey's struggling online gambling industry is going to get a massive boost from the presence of the world's largest online poker site, as well as Full Tilt Poker.
3) A number of American online poker professionals may now decide to move to New Jersey to live and play.
4) Now that Pokerstars and Full Tilt Poker have their foot in the door in the United States, other jurisdictions may decide to allow them entry as well. This includes Delaware and Nevada, where online poker is already legal, and other jurisdictions that are currently considering online gambling/poker bills. Note: Nevada has a "bad asset" clause that prevents Pokerstars and Full Tilt Poker from gaining access, though this might be changed if lawmakers see the positive impact of Pokerstars' inclusion to the New Jersey gaming market.
5) You would have to think that Pokerstars will be planning some pretty special live tournaments in New Jersey, as well as the possible return of the NAPT
-
Pokerstars has not revealed the official launch date for their New Jersey site, though you would have to assume that it will be coming soon. Expect some large guaranteed tournaments and other promotions to coincide with the launch.
Source: WSJ.com -
Pokerstars, Full Tilt Get OK for New Jersey Online Gambling
--
Filed Under:
Poker Legal Issues