Published on July 31st, 2008 2:23 am EST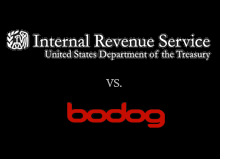 Forbes is reporting tonight that the US government recently seized $24 million dollars from "bank accounts linked to Bodog".
According to the article (linked below), "federal filings make very clear that a serious criminal investigation of the Bodog enterprise is ongoing."
Forbes says that the U.S. attorney's office in Baltimore launched the lawsuits to take the money, and that Bodog-related seizures occurred at Wachovia, Bank of America, SunTrust Banks and Regions Bank.
The article says that $14.2 million was seized in January and February of this year from accounts in the names of JBL Services and Transaction Solutions. Another $9.9 million dollars was seized in July from "eight accounts at Nevada State Bank, in the name of Zaftig Instantly Processed Payments, doing business as ZipPayments.com."
The Forbes article says that a statement from Wachovia seemed to hint that accounts were kept open at the request of investigators in order to aid their investigation.
The IRS's Criminal Investigation division "started looking at Bodog in 2003 and opened a formal probe in 2006". This has involved the "enlisting of unnamed cooperating witnesses and informants, undercover efforts to make bets on football and collect winnings, and close examination of public and bank records".
The article then goes on to detail a number of the companies that are linked to the United States Bodog operation. Apparently the $9.9 million dollar seizure from the Nevada State Bank came when an undercover operative cashed a check that didn't bounce, leading investigators to the bank accounts.
The full article can be found below:
Source:
Feds Hound Bodog
--
Filed Under:
Poker Legal Issues