Judge Thomas Wingate To Rule on Gambling Domain Name Case Shortly
Published on October 14th, 2008 7:16 am EST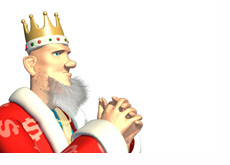 A decision is expected to be passed down shortly by Franklin County Circuit Court Judge Thomas Wingate in the ongoing gambling domain name saga. Kentucky Governor Steve Beshear wants 141 of the most popular online gambling domain names in the world to be seized by the courts and turned over to the Commonwealth. These domain names include some of the biggest gambling URLs in the industry, including Fulltiltpoker.com, Ultimatebet.com and Pokerstars.com.
After hearing arguments from both sides at a meeting last Tuesday, Judge Wingate announced that he would need a week to make a judgment.
A number of the 141 domain names have already been turned over to the Commonwealth of Kentucky.
Christine Jones, general counsel for Godaddy.com, has stated that they issued a "registrar certificate" to the state of Kentucky for the listed domains under their control. This means that the court has jurisidiction over the issue in their eyes, and if Judge Wingate rules that the domain names can be seized by the Commonwealth, then Godaddy.com will turn the 20 domain names under their control over to the state. This would include domain names such as Ultimatebet.com and Doylesroom.com.
Other domain registrars have not been so willing to acquiesce to the demands of the Governor. Network Solutions, one of the largest registrars in the world, sent a legal team to Kentucky to argue against the proposed seizure.
Some of the companies involved in the matter, including Pokerstars, have stated that their domains are registered outside of the United States, and they will simply choose to ignore the ruling if Judge Wingate declares that their domain names can be seized.
There has been a great deal of interest in this case from people outside of the gambling industry. The ongoing court case has been covered by sites such as ZDNet and Techdirt.com. The prevailing opinion seems to be that the Commonwealth's case isn't very solid, and that the judge will likely rule in favor of the online gambling industry. Anything is possible though, and many of the affected companies have already made backup plans in case the judge rules against them.
The online gambling industry was well-represented at the hearing last Tuesday, and by the sounds of it, the defense made some very persuasive cases against the proposed seizures.
The Kahnawake Gaming Commission also sent a letter to Governor Beshear, stating that the Governor's actions are "unacceptable" and that they will take "further action" depending on how Judge Wingate rules.
The ruling should be handed down over the next couple of days.
--
Filed Under:
Poker Legal Issues