Motion to Dismiss Filed in Clonie Gowen Lawsuit Against FTP
Published on January 7th, 2009 9:48 pm EST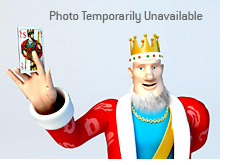 Late in 2008, Clonie Gowen shocked many in the poker world by filing a lawsuit against Full Tilt Poker.
The suit, "Gowen vs Tiltware LLC, et al.", was filed in the Las Vegas Office of the Nevada District Court in mid November.
A number of companies that are involved with Full Tilt Poker were listed as defendants in the suit, including Full Tilt Poker, Tiltware LLC and Pocket Kings Ltd.
On top of that, members of "Team Full Tilt" and original founders of the company were also listed as defendants, including Phil Ivey, Erick Lindgren and Patrik Antonius.
The suit alleged that Gowen was promised 1% of the company in 2004. A meeting was apparently held at Phil Ivey's suite at the Golden Nugget at that time, and was led by Howard Lederer.
Gowen claims that she was offered a 1% stake to represent and promote the company, and that she accepted. She goes on to claim that she was offered a 1% stake in both Full Tilt Poker and Tiltware LLC, the company that "leases" its software to Full Tilt Poker.
Anyways, Gowen claims to have represented the company for years without receiving any compensation. In her suit, Gowen claims that all members of "Team Full Tilt", except her, received distribution checks in 2007. She claims to have asked for her "fair share" at that time and was turned down.
Gowen went on to claim that Howard Lederer offered her $250,000 in November of 2007 to compensate Gowen for her past work with the company. Gowen apparently turned the offer down.
In late 2008, Gowen was told by Full Tilt Poker that a press release would be issued by the company, severing all ties with Gowen. Shortly thereafter, Gowen and her lawyers unleashed their lawsuit against Full Tilt and its associated entities. Gowen claimed damages of $40 million dollars - the lawsuit claimed that Full Tilt Poker was worth $4 billion dollars and that Gowen's rightful 1% stake was worth $40 million dollars.
The law firm of Olson, Cannon, Gormley & Desriusseaux filed a twelve-page motion to dismiss on Tuesday.
The motion to dismiss claims that "plaintiff Cycalona Gowen" is a "self-described celebrity poker player" who has launched a "typhoon of litigation". The motion states that Gowen "certainly does not have a shotgun claim for fraud against her thirteen fellow poker pros", and that the court should either dismiss the claim or "significantly clean up her almost random claims against the multiple defendants".
The motion goes on to say that "unless Gowen makes an offer of proof sufficient to satisfy the court", that the Court should dismiss the thirteen individual defendants from the suit.
The motion further states that this is a contract claim between Gowen and Tiltware, and that the 13 individual defendants have nothing to do with the situation.
We'll keep an eye on this situation as it progresses..
--
Filed Under:
Poker Legal Issues