$33 Million Seized by Federal Government
Published on June 10th, 2009 3:51 am EST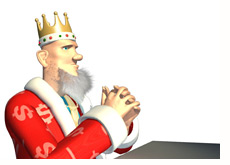 A few weeks ago, many US-based Pokerstars and Full Tilt Poker players started reporting that recently deposited checks had been bouncing.
Not only that, but the popular eCheck method of depositing had suddenly been disabled, which led many players to wonder just what was going on.
The issue was further compounded by the fact that there was a great deal of conflicting information swirling around the Internet about the situation. Pokerstars and Full Tilt Poker, at least initially, did little to soothe the fears of their nervous American customers.
Tonight, in a NYT article titled "Web's Poker Winners Face Delays in Collecting", author Matt Richtel
laid out the root cause of all the problems.
According to the article, federal prosecutors recently asked four American banks, including Citibank and Wells Fargo, to freeze the accounts of two companies that "process payouts on behalf of" four poker sites, including Pokerstars and Full Tilt Poker.
The amount of money that was frozen? "At least" $33 million dollars.
According to John Pappas, executive director of the PPA, this situation is currently impacting 27,000 players.
Prosecutors reportedly began asking banks such as Citibank and Wells Fargo to begin freezing the account of Allied Systems and Account Services, the two companies that were processing the payouts, last week. The banks complied, and the money was frozen.
--
If you have had one of your checks bounce, then you should have had the money returned to your account by now.
Both FTP and Pokerstars have multiple check processors
, so you should have no problems when it comes to requesting another payout.
There is no way that you won't get your money.
FTP is expecting that eChecks will return either this week or next.
FTP has "no plans to leave the US market" as a result of this situation.
This situation obviously sucks, but the online poker industry is unbelievably resilient. We also have various pro-poker organizations on our side, and they are already in the process of fighting this latest attack against online poker players in the United States.
It's obviously a bit worrying when a check processor gets shut down. You naturally start to assume that the government will begin going after other processors, which will make it harder and harder for American players to cash out. Let's hope that this is an isolated incident, and not an indication of things to come.
--
According to the PPA, these seizures are not related to the UIGEA. Rather, the "seizure notice and subpoenas appear to allege violations of the Wire Act and the Illegal Gambling Business Act".
The PPA claims that in "at least two cases", these actions were taken without first obtaining a seizure warrant.
You can read more about it here.
--
I would expect to hear much more about this situation over the coming days and weeks. We'll keep you posted.
--
Filed Under:
Poker Legal Issues