UIGEA Compliance Date Officially Extended Until June 1, 2010
Published on November 30th, 2009 5:57 am EST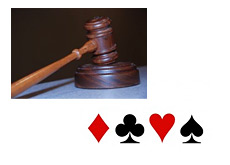 In case you missed the news while eating turkey and watching football this past Thanksgiving weekend, the Department of the Treasury and the Federal Reserve Board jointly announced on Friday that there would be a six-month extension of the UIGEA compliance date.
The original compliance date was slated to be December 1, 2009 (tomorrow). As a result of this extension, the new compliance date will be June 1, 2010.
The Board of Governors of the Federal Reserve and Department Offices, as well as the Department of the Treasury, revealed that they had consulted with the Department of Justice prior to extending the compliance date.
A number of entities (including congressmen and organizations) petitioned for an extension of the compliance date, noting that a "significant number of regulated entities will not have in place the necessary policies and procedures by the current December 1, 2009 date". In addition, confusion over the definition of "unlawful Internet gambling" was cited as a reason for granting the delay.
The Poker Players Alliance, the National Thoroughbred Racing Association, the American Bankers Association and the National Association of Federal Credit Unions were some of the organizations that spoke up in favor of an extension of the compliance date, according to
this Federal Reserve press release
(*.pdf)
The press release also noted that the agencies had received letters opposing the extension of the compliance date, and that all of these letters came from members of Congress. "The speculative nature of the problems raised by petitioners" was one of the reasons why these members of Congress were against the delay.
The press release goes on to say that a 12-month extension wasn't granted because "neither petitioners not commenters supporting the petition have provided the Agencies with sufficient data or documentation to justify a twelve month extension of the compliance date."
--
It should be interesting to see what happens over the next six months.
Poker players need to continue to make themselves heard. Don't assume that things are going to necessarily change for the better just because this six month extension was granted.
Join the PPA. Write to your lawmakers. Be proactive. June will be here before we know it.
--
Filed Under:
UIGEA