Financial Times Article Claims That A Federal Grand Jury in Manhattan Is Investigating Full Tilt Poker
Published on April 5th, 2010 4:19 am EST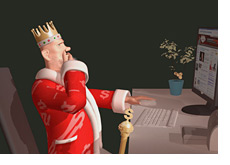 According to the Financial Times (link below, you may have to register to read the article), a federal grand jury in Manhattan is investigating Full Tilt Poker and "could bring indictments against some of the world's best known professional players". This is "according to people familiar with the case and a subpoena issued to a witness this week."
More from the article - "The probe is aimed at Full Tilt Poker and individuals including Chris Ferguson and Howard Lederer, champion gamblers who are among those accused of controlling the company in a Los Angeles civil lawsuit filed last year."
"..according to the subpoena the investigation is examining whether gambling and money-laundering laws have been broken."
And:
"FBI agents or prosecutors have spoken to at least two people involved in disputes with Full Tilt, paying special attention to the possibility of money-laundering violations."
There is not much really to say until we find out whether or not indictments are going to be handed down. The Financial Times is obviously a very reputable publication, so I'm sure that this story is accurate.
We'll have more on this story as soon as we hear anything new..
Source: Financial Times -
Court probe into Internet Poker Site
--
Filed Under:
Poker Legal Issues