Harry Reid's Online Poker Bill on Life Support
Published on December 10th, 2010 4:03 am EST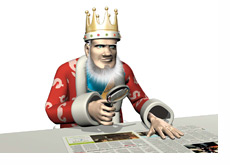 Thursday was another day of hand-wringing for US online poker players as the saga surrounding proposed legislation to legalize online poker in the United States continued to unfold.
Thursday was not a good day for supporters of Harry Reid's online poker legislation. The reason? When the bill to extend the Bush-era tax cuts was officially introduced Thursday evening, it didn't include language for the legalization of online poker in the United States. Attaching Reid's "Prohibition of Internet Gambling, Internet Poker Regulation, and Strengthening UIGEA Act of 2010" to the tax cut bill was seen as the best way to pass the online poker legislation, so this is seen as a major blow to the Senate Majority Leader's efforts.
It's not over yet though. Reid could still get his online poker legislation passed, and here's how, courtesy of Politico.com:
"Reid could still insert the poker legalization into the tax-cut bill if additional modifications are made before a final vote is cast sometime next week. Or he could slip the plan into a mammoth $1 trillion omnibus spending bill that has yet to be unveiled but is necessary to keep the government funded through September."
So, Reid's online poker legislation is not dead as of yet, but it certainly seems to be on life support. At this point, supporters of the proposed bill will probably need a small miracle in order to see it passed this year.
While a number of politicians have spoken out against Reid's bill, Senator Jon Kyl has been particularly outspoken in his belief that the bill should not become law.
If you are looking to blame someone for this bill not going through (if it does end up failing), then look no further than Kyl. According to multiple media reports, Kyl is not budging from his position and is pretty much single-handedly derailing Reid's bill.
--
It's not over till it's over, and anything could still happen over the next week. As of this moment though, it's not looking good for Harry Reid's online poker bill.
Source: Politico.com -
Harry Reid Won't Push Online Poker in Tax Cut Bill
--
Filed Under:
UIGEA
|
Poker Legal Issues