PartyGaming Co-Founder Sentenced To Probation
Published on December 17th, 2010 5:31 am EST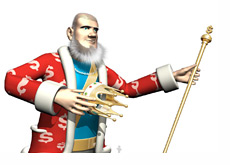 PartyGaming co-founder Anurag Dikshit traveled to New York earlier this week to learn of his fate from a U.S. District Judge.
Dikshit, who pled guilty in 2008 to one count of violating the federal wire act, was looking at as much as two years in jail. Dikshit had already forked over $300 million to the US government as part of his guilty plea.
Thanks to Dikshit agreeing to "cooperate in an ongoing investigation with federal prosecutors", Judge Jed Rakoff decided to sentence the PartyGaming co-founder to one year of probation instead of sending him to jail. Prosecutors in the case were not seeking any jail time for Dikshit.
According to Forbes.com, court proceedings show that Judge Rakoff openly wondered why Dikshit's fellow PartyGaming co-founders, Ruth Parasol DeLeon and Russell DeLeon, hadn't been indicted as of yet. Assistant U.S. Attorney Arlo Devlin-Brown offered that "there are challenges in this prosecution". While Dikshit voluntarily reached out to federal prosecutors to initiate negotiations, Ruth Parasol DeLeon and Russell DeLeon seemingly don't have the same intentions and are currently residing in Europe.
Dikshit has cut all ties with the company that he helped start, and he also seems determined to rid himself of the vast fortune that he made from his PartyGaming shares. In addition to paying the US government $300 million, Dikshit has also given away a considerable chunk of his fortune to his charitable foundation.
Over a decade ago, Dikshit was hired by Ruth Parasol to develop the original Party Poker software. Parasol was reportedly so impressed by Dikshit's work that she gave him a large number of shares in the company, and the rest is history. Party Poker would soon end up becoming the single largest online poker room in the world, making its founders billions of dollars.
Source: Forbes.com -
Convicted Former Online Poker Billionaire Avoids Jail
--
Filed Under:
Poker Legal Issues