Who is RaSZi?
Player:
RaSZiReal Name:
Lex Veldhuis
Also Plays Under:
As far as I know, "RaSZi" logs most of his time on two sites - Pokerstars and Full Tilt Poker. He is most often seen playing high-stakes cash games on Pokerstars, however he has been known to occasionally jump into a game on Full Tilt Poker.
Online Notes:
Lex "RaSZi" Veldhuis is primarily a cash game player, and a very good one at that.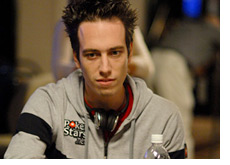 According to Pokertableratings.com, "RaSZi" is up just over $201k on Pokerstars since the site started tracking his hands.
"RaSZi" has been known to play as low as $2/$4 and as high as $100/$200 (he has been spotted playing $100/$200 on Full Tilt Poker multiple times).
"RaSZi" has disabled access to any of his MTT and SNG stats online.
"RaSZi" reportedly once turned $330 into over $100k in a single session on Full Tilt Poker.
Live Notes:
eldhuis has just over $108k in lifetime tournament cashes.
His largest cash came in the 2007 Belgian Poker Championship, when he came in 18th place for $14,690.
"RaSZi" has two WSOP cashes:
1. $14,438 (2008 10k Heads-Up Championship)
2. $5,596 (2008 1500 NLHE Shootout)
"RaSZi" is about to significantly add to his bankroll, as he is currently 5th in chips at the $40k event at the 2009 WSOP. First place is just under $2 million dollars, and there are only 23 players left.
Other Notes and Info:
"RaSZi" is 25 years old and is originally from Rotterdam, Netherlands.
"RaSZi" got his start playing poker in late 2003. His friend, Victor "Nazgul" Goossens, gave him a small stake to test out the real-money games on the site, and the rest is history.
"RaSZi" used to be a fairly serious Starcraft player.
"RaSZi" was one of the instructors at Pokernews Strategy, but the site seems to be on a hiatus right now.
Veldhuis is currently dating fellow poker pro Evelyn Ng.
Here is an interview with "RaSZi" and Ryan Daut from WorldPokerTour.com:
Photo:
PS - WSOP 2009
Recent Articles That Mention
RaSZi
:
"RaSZi" Over "ElkY" Via Second Round KO
"ElkY" vs Veldhuis Kickboxing Match Set for November 22nd
Pros Converging On The Bahamas For the 2011 PCA
Isaac "luvtheWNBA" Haxton Leads $40k No Limit Hold'em WSOP Event Heading Into Final Table
Justin "Zeejustin" Bonomo Leads $40k NLHE Event Heading Into Day 3
View all Online Poker Profiles