Definition of Bad Beat
What does the term "bad beat" mean in poker? What is the definition of the term "bad beat"?
Bad Beat is a poker term for a hand in which a player with very strong cards loses to an opponent who is statistically unlikely to win, but hits a lucky card (or two) and unexpectedly takes the pot. The losing player is then said to have suffered a "bad beat".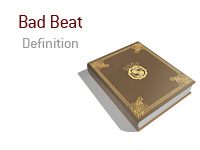 A bad beat can be a heavy psychological blow and can throw off the
losing player, affecting the rest of his game.
Professional poker player Phil Hellmuth, for example, is notorious for
his intense reactions to bad beats.
An example of a bad beat would be when a full house gets beaten by a straight flush which was completed by catching the right cards on both the turn and the river.
Every poker player has their nightmare bad beat story. If you have
been playing for a while, it is likely that you have yours too.
--
Recent Articles That Include The Term
Bad Beat
:
High Stakes Poker Season 9 Returns on February 21st
Partypoker Suffers Embarrassing Outage on Sunday
Henri "Buehlero" Buehler Wins Nearly $70,000 During Twitch Stream
Jean-Robert Bellande Finally Does It
$1.375 Million Bad Beat Jackpot Hit at Playground Poker Club
Back to the -
Poker Dictionary