Definition of Bankroll
What is a "bankroll" in poker? What is the definition of the term "bankroll" in poker?
In poker, a "bankroll" is the amount of money that a person has allocated to play poker with.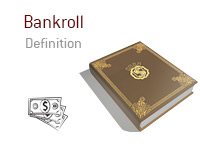 For instance - let's say that you are a young (21 years old) poker player who grinds $0.50/$1 No Limit Hold'em games online. In order to be properly bankrolled, you would need a minimum of $10,000 set aside in your "bankroll" to comfortably play at that level.
You have a total of $20,000 set aside as your poker "bankroll". You also have $10,000 set aside for living expenses, which you have vowed not to use to play poker with.
A professional poker player should have a certain amount of money set aside (usually six months worth of expenses) for living expenses.
The problem that many players have is that their living expenses and poker bankroll are intermingled, and they play with both their living expenses and poker bankroll money. This leads to situations where players "go broke" and need to borrow money just to continue paying their expenses, let alone play poker.
--
Recent Articles That Include The Term
Bankroll
:
WPT Champion, Dennis Blieden, Sentenced To 6 1/2 Years in Prison After Embezzling More Than $22 Million
Bill Perkins vs Landon Tice Match Set To Begin on June 2nd
$50 Million MoMoMo PKO Series Coming To ACR This Fall
Brad Booth Reported Missing; Last Seen July 13th
22 Starting Flights For GG WSOP Online Main Event?
Back to the -
Poker Dictionary