Definition of Flop
In poker, particularly in variants that use community cards, such as Texas Hold 'em and Omaha Hold 'em, the 'flop' refers to the action of dealing the first three face-up cards to the board, and it also refers to the cards themselves.
When used as a verb, the term flop has two different meanings. When the dealer flops, he or she has dealt the first three communal cards. When a player flops, he or she has made a hand out of the first three face-up cards dealt.
Typically, a dealer deals the flop cards individually face down, and then turns all three cards over as a group. The flop is part of all community poker games. Not all community games use a turn and river as Texas Hold 'em does.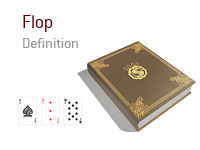 The flop is one of the most crucial moments in any hand of poker. In Texas Hold 'em, the player knows 71 percent of his or her hand at the flop, and the most important decisions in the hand will take place based on that data.
Players and strategy guides often refer to the concept of pre-flop. This refers to the betting and hole cards dealt prior to the flop. Most pre-flop strategy deals with the value of hole cards and how to bet based on that value.
There are numerous theories on the origin of the term flop. Most of them center on the notion that when the dealer turns or flops the three cards over they create a distinct sound. The truth, however, is anyone's guess.
Since these face-up cards, also called community, shared and window cards, which are shared by all players, are an integral aspect of this style of poker, poker players often refer to community card poker games as 'flop games.'
--
Recent Articles That Include The Term
Flop
:
Phil Hellmuth Defeats Tom Dwan To Win $400,000 "High Stakes Duel" Match
Tony G, Leon Tsoukernik Combine For $1.8 Million Pot Limit Omaha Pot
Tom Dwan Ends Phil Hellmuth's "High Stakes Duel" Winning Streak
Phil Ivey Wins $25k WPT Heads Up Championship
Good Vibes Go Out the Window in Polk/Negreanu Match
Back to the -
Poker Dictionary