Definition of Ladies
What does the term "ladies" mean in the world of poker? What is the definition of the term "ladies" in poker?
In poker, the term "ladies" refers to when someone is dealt two Queens.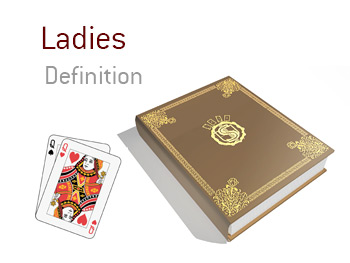 For instance, let's say that you are playing in a $5/$10 NLHE cash game in a local casino.
You are dealt pocket Queens on the button. A player in early position raises and action folds around to you. You push the rest of your short stack into the middle and your opponent instantly calls.
You flip up your hand and say "I've got a couple of Ladies". Your opponent flips over A-K and you end up flopping another Queen to win the pot.
-
In Hold'em, pocket Queens is one of the strongest starting hands.
--
Recent Articles That Include The Term
Ladies
:
WSOP Finalizes 13 More Events For 2019 World Series of Poker
partypoker Adding Nearly $2 Million To This Weekend's Tournament Schedule Following Last Sunday's Downtime
Maria Lampropulos Wins partypokerLIVE Millions Main Event
World Series of Poker Announces Dates for "Flagship Weekend Events"
Save the Date: World Series of Poker Announces 2017 Dates
Back to the -
Poker Dictionary