Definition of Offsuit
What does the term "offsuit" mean in poker? What is meant by the term "offsuit"?
In Texas Hold'em, the term "offsuit" refers to when you are dealt two cards of different suits.
For instance - let's say that you are dealt Ac-Kh. In this case, you would have been dealt "Ace-King offsuit", as you are holding an Ace of Clubs and King of hearts.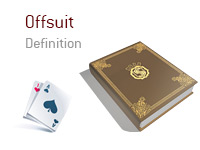 The opposite of "offsuit"? A suited hand, such as:
As-5s
In this case, you have been dealt "Ace-Five suited", with the suit being Spades. Being dealt a suited hand obviously improves your chances of making a flush, as you hold two cards of the same suit.
Let's look at an example of the proper usage of the term "offsuit":
Example: It is the final table of a Multi-Table Tournament. Action folds around to the button. The button is short-stacked and looks down at Kh-Qc, or "King Queen offsuit".
The button shoves, and the SB and BB both fold.
--
Recent Articles That Include The Term
Offsuit
:
Phil Hellmuth Defeats Tom Dwan To Win $400,000 "High Stakes Duel" Match
Stoyan Madanzhiev Wins World Series of Poker Online Main Event
Cary Katz Tops Justin Bonomo To Win $100,000 Super High Roller Event at PCA
Phil Hellmuth Wins Poker Night in America's "King of the Hill"
15 Players Left in $50,000 Poker Player's Championship
Back to the -
Poker Dictionary