Definition of Rakeback
Click Here To Get Up to 40% Rakeback Now
The rake is a commission taken by the operator of a poker game, such as a casino or an online poker room. The rake is typically less than ten percent, and the operator takes it from the pot each hand up to a certain limit.
"Rakeback" is a relatively new aspect of raking that started with online poker rooms. As a form of incentive, the online poker rooms kick back a percentage of the rake based on how much a particular player contributed.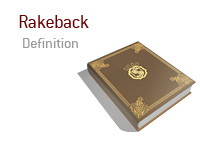 Generally, rakebacks used a tiered structure: The more a player contributes, the higher the rate of the reward. Since the most loyal clients carry the greatest burden, the goal of this approach is to alleviate some of that burden.
Most online poker players can easily save thirty percent of any rake they spend, and regular players can often save much more. In fact, rakeback is an important technique for maximizing an online poker player's bankroll.
Another form of rakeback is the money given by online poker rooms to their affiliates.
Affiliates are typically websites that advertise for poker rooms. Rather than pay per click or impression, the poker room tracks new player sign-ups, and then pays out to the affiliate based on the rake they collect from that player.
--
Recent Articles That Include The Term
Rakeback
:
Can "Run It Once" Regain Their Momentum?
"I_AGAINST_All" Becomes First Cash Game Diamond Club Elite Member on partypoker
partypoker Continues To Roll Out Changes
"Sp0ubledy" First Player To Reach $200,000 Rake Milestone on partypoker
Partypoker Unveils "Diamond Club Elite" VIP Program
Back to the -
Poker Dictionary