Definition of Rakeback
Updated: May 20th, 2020
When you play poker for real money, the poker room will charge you something called "rake".
For instance, in a cash game, the poker room will charge a small amount of money per pot. This amount will fluctuate based on the number of people in the hand and the game type.
In a MTT or SNG, the poker room will charge an entry "fee" to play, which is the equivalent of rake in a cash game. For instance, if you enter into a $55 tournament, $5 of this amount will be "rake".
"Rakeback" occurs when a portion of your rake is refunded back to you.
For instance, let's say that an online poker room has a promotion where they will return 40% of the rake that you have paid over the course of a week, every Monday.
So, let's say that you have played 40 hours worth of $1/$2 cash games over the course of a week. To make things simple, let's say that you paid $1,000 in rake to the poker room.
If the online poker room has a 40% rakeback promotion, this would mean that you would receive $400 back into your account on every Monday. This is "rakeback".
In the days of Full Tilt Poker, there were many third parties that would provide rakeback to customers that would sign up underneath them. Here is how it worked - you'd sign up underneath the third party, you'd pay rake to the online poker room, the third party would receive 30% of your total rake as a result of their "affiliate" deal with the online poker room, and the third party would refund 25% of your rake to you every week.
In this day and age, some of the biggest poker rooms (including partypoker) simply pay out rakeback themselves, eliminating the need for a third party.
--
The rake is a commission taken by the operator of a poker game, such as a casino or an online poker room. The rake is typically less than ten percent, and the operator takes it from the pot each hand up to a certain limit.
"Rakeback" is a relatively new aspect of raking that started with online poker rooms. As a form of incentive, the online poker rooms kick back a percentage of the rake based on how much a particular player contributed.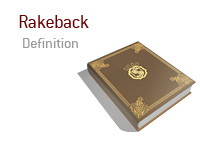 Generally, rakebacks used a tiered structure: The more a player contributes, the higher the rate of the reward. Since the most loyal clients carry the greatest burden, the goal of this approach is to alleviate some of that burden.
Most online poker players can easily save thirty percent of any rake they spend, and regular players can often save much more. In fact, rakeback is an important technique for maximizing an online poker player's bankroll.
Another form of rakeback is the money given by online poker rooms to their affiliates.
Affiliates are typically websites that advertise for poker rooms. Rather than pay per click or impression, the poker room tracks new player sign-ups, and then pays out to the affiliate based on the rake they collect from that player.
--
Recent Articles That Include The Term
Rakeback
:
Pokerstars Finally Has To Respond to Industry Competition
Partypoker Suffers Embarrassing Outage on Sunday
Can "Run It Once" Regain Their Momentum?
"I_AGAINST_All" Becomes First Cash Game Diamond Club Elite Member on partypoker
partypoker Continues To Roll Out Changes
Back to the -
Poker Dictionary