Definition of Shootout
In poker, a 'shootout' is a type of tournament where a player must win his or her table in order to move onto the next round or final table. Most other formats tend to merge tables in order to maintain balance among the field.
In a poker shootout with one-hundred people, the event would start with ten tables of ten players each. Each table would play down to one player, and then the next and final round would consist of those ten remaining players.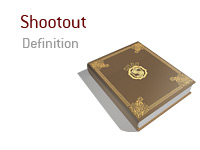 In typical poker tournament environments, one of the great challenges is unpredictability. Especially in the early stages of tournaments, a player may face numerous different players in a rapid-fire fashion conducive to bad luck.
By ensuring players play out a full table, it allows players to learn about their opponents, and adapt their game appropriately. In theory, this is conducive to skill play, and is thus advantageous to the expert poker player.
The shootout format does not extend gameplay time. In fact, all other aspects being equal, shootouts tend to be faster. This is where the name came from; real-life shootouts are action-packed but generally short-lived events.
The biggest challenge of organizing a shootout is dictating the final table size. Due to this, it is usually necessary for a shootout tournament to have a participation limit. Most poker tournaments allow for any number of players.
--
Recent Articles That Include The Term
Shootout
:
A Big Weekend for Live MTTs As King's Resort, Venetian Host Events
Venetian Testing Out First COVID-19 Era Multi-Table Tournaments Later Today
Elio Fox Out To Early Lead in WSOP Player of the Year Race
PokerGo Reveals Their World Series of Poker Streaming Schedule
$65 Million Guaranteed for 2018 SCOOP on Pokerstars
Back to the -
Poker Dictionary