Definition of Short Stack
What does the term "short stack" mean? What is the definition of the term "short stack" as it applies to the game of poker?
In poker, the term "short stack" is used when a player has a relatively small number of chips compared to the rest of his opponents.
Let's look at a couple of examples to properly illustrate the usage of the term "short stack":
Example 1: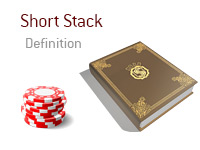 You are playing in a multi-table tournament. Thanks to a couple of unlucky hands, you are down to just 625 chips, while the blinds are currently at 100/200.
The average chip stack in the tournament is over 6,000 chips. All of the other players at your table have at least 2,000 chips, while you are playing with just 625.
Thanks to your relatively tiny stack, you are said to be playing with a "short stack". Or, as some people would say, you are "short stacked".
Example 2:
You are playing in a single table tournament. The two biggest stacks at the tournament get involved in a big hand - after getting their stacks all-in after the flop, one player turns up top set, while the other turns over the nut flush draw.
Top set holds, and the player with the busted flush draw is down to just 325 chips. This is well below the table average, which means that this player is now officially a "short stack".
--
Players with short stacks need to be aggressive, as the blinds (and antes) will quickly whittle down their stacks to nothing.
--
Recent Articles That Include The Term
Short Stack
:
Tom Dwan Ends Phil Hellmuth's "High Stakes Duel" Winning Streak
Massive Twitch.tv Poker Numbers This Past Week as "EasyWithAces", Lex Veldhuis Make Deep Runs
Fintan "EasyWithAces" Hand Makes Deep Run In WCOOP Main Event
Two Horse Race Developing as Day 8 of World Series of Poker Main Event Concludes
Maria Ho Leads WSOPE Main Event Heading Into Final Table
Back to the -
Poker Dictionary