Definition of Variance
In poker, variance is the measure of uncertainty. A play that has high variance has a great deal of uncertainty. A play that has a relatively certain outcome has a low variance. The act of folding has a variance of zero.
Poker is a game of skill. It also has an element of chance due to the distribution of cards and the randomness of the shuffle. Another way to define variance is that it is a measure of the chance element in the short term.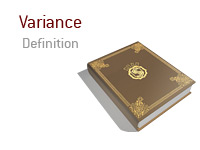 Variance is important for the poker player because it quantifies the notions of upswing and downswing. It is the difference between the outcome expected over the long term and the results experienced in the short term.
Certain poker formats have higher variance than others do: Multi-table games have a higher variance than sit and go's do, and sit and go's have a higher variance than standard cash games. Knowing the variance for a format or for a particular hand gives the player worthwhile insight. Their expectation will be more in tune with the likely outcomes.
Let us consider a counterintuitive scenario: A player is a 70-percent favorite. However, if she faces this same situation twice in a row, her chance of winning both times would only be 49 percent. This is variance at work.
--
Recent Articles That Include The Term
Variance
:
Poker World Waits For Next Big Challenge: Landon Tice vs Bill Perkins
Good Vibes Go Out the Window in Polk/Negreanu Match
Time Running Out For "ActionFreak" in "Galfond Challenge"
Pocket Kings Lays Off 180 Workers
The Gus Hansen Downswing Continues
Back to the -
Poker Dictionary