Joseph Cheong Poker Profile
Joseph Cheong is a member of the 2010 "November Nine" and will begin November's final table with 23,525,000 in chips.
--
According to his profile on WSOP.com, Joseph Cheong was born in Seoul, Korea. When he was six years old, Cheong and his family picked up and moved to the United States.
Cheong, who currently resides in La Mirada, California, earned a Bachelor of Science in Psychology and a Joint BA degree (Math/Economics) from UC San Diego.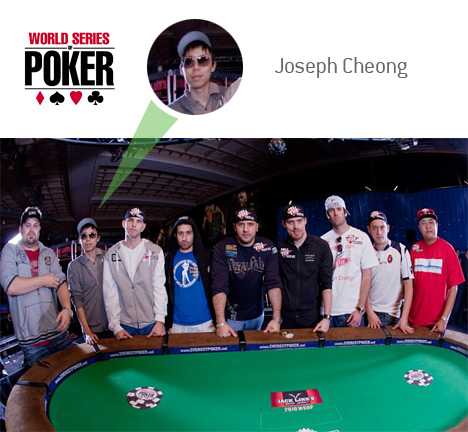 Prior to the 2010 World Series of Poker, Joseph Cheong's largest "live" tournament cash had came in a $340 preliminary event at the Harrah's Rincon WSOP Circuit tournament. Cheong took down the tournament, earning $17,541 in the process.
Cheong was able to cash two times at the 2010 World Series of Poker before his main event run:
$1,500 NLHE 6-Max - 24th, $13,739
$5,000 NLHE 6-Max - 29th, $17,325
--
Like many other players, Joseph Cheong got his start playing online poker.
Cheong, who goes by the alias of "subiime" on both Full Tilt Poker and Pokerstars, has well over a million dollars in total lifetime online MTT cashes.
His largest ever online cash came in a 2009 MiniFTOPS event, which he ended up taking down for over $55,000. Other large cashes include a 3rd place finish in a $1k Monday event on Full Tilt Poker ($39,840) and a first place finish in a $75,000 Guarantee event on FTP ($33,741).
Cheong's online success proves one thing - his run to the WSOP main event final table was no fluke.
According to Pokertableratings.com, Cheong has not had much success playing cash games. He is down about $10k over the past year on Full Tilt Poker, with most of these losses coming in $1/$2 and $2/4 NLHE heads-up games.
--
Joseph Cheong was able to keep his composure on Day 8 of the main event, despite taking a horrific beat at the hands of Filippo Candio.
Candio got the hand going by making a pre-flop raise. Cheong stuck in a 3-bet and Candio elected to make the call.
The flop came 6h-5c-6c. Cheong led out with a bet of 1.5 million, Candio raised to 4.4 million, Cheong shoved and Candio finally elected to call after a few minutes of thought.
The two players turned over:
Cheong - pocket Aces
Candio - 7s-5s
Candio was WAY behind in the hand and would need some divine intervention to avoid being eliminated from the tournament.
The turn brought an Eight, which gave Candio a number of additional outs.
The river brought the 4c, giving Candio the straight and the MONSTER pot.
Instead of surging to the chip lead, Cheong was forced to lick his wounds and shake off the hand.
To his credit, he did, and now he has a chance to play for nearly $9 million in November.
--
Source: WSOP.com -
Joseph Cheong Profile
Photo: GreasieWheels
Recent Poker King Articles That Mention
Joseph Cheong:
131 Players Turn Out For $25,000 Mixed Max No Limit Hold'em Event at World Series of Poker
18 Players Turn Out For Inaugural WPT Alpha 8 Event
David "Doc" Sands Wins WPT Super High Roller
Mike "The Mouth" Matusow Wins 2013 National Heads-Up Poker Championship
Quarterfinals of National Heads-Up Poker Championship Set