"Isildur1" Takes $343k From Daniel Cates During Epic Match
Published on February 26th, 2011 3:12 am EST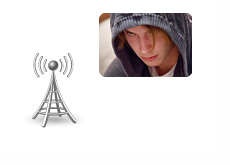 Viktor "Isildur1" Blom and Daniel "w00ki3z." Cates battled it out on Pokerstars earlier today. When the smoke had cleared, "Isildur1" had turned in one of his best sessions since signing with Pokerstars in late December.
"Isildur1" and "w00ki3z." battled it out over a number of $25/$50 Pot Limit Omaha tables. The game was actually quite a bit higher than that, as Blom and Cates had agreed to put in a certain amount of money pre-flop. From Cates' Twitter page:
"just lost 300something k to isildur playing 150/450, blah"
--
According to HighStakesDB.com (link below), Blom managed to win $343k against Cates over the course of the 2,085 hand match.
HighStakesDB also claims that Blom is now up approximately $450k for the year in cash games on
Pokerstars
. Blom loves this, Pokerstars loves this and railbirds love this. Most everybody in the online poker community would love to see Blom go on another epic run, as it is always incredible to watch his matches when he is in the midst of a hot streak.
--
The hand of the match saw "Isildur1" win a monstrous $171,622 pot after flopping a full house.
With the board reading 9h-3d-3s-2h-5s and nearly $66k in the pot, "Isildur1" led out with a river bet of $58,794, which was enough to put "w00ki3z." all in. "w00ki3z." made the call for his last $52,863.59, and the two players turned up:
"Isildur1" - 3c-10h-9d-7c
"
w00ki3z.
" - Jc-As-2c-3h
"
Isildur1
" flopped a full house, Threes full of Nines, while "w00ki3z." had turned a weaker full house. Cates called Blom's river bet, and the massive $171k+ pot was shipped to "Isildur1".
--
Most people would have taken their $340k+ profit and quit for the day, but "Isildur1" isn't most people. He found another willing opponent in Scott "urnotindanger" Palmer, and the two ended up battling for a number of hours, with "Isildur1" giving back a considerable chunk of his newfound profits.
I think that it's safe to say that
Viktor Blom
will be logging some serious hours on Pokerstars this weekend..
Source:
HighStakesDB.com
Photo: GreasieWheels.com
--
Filed Under:
Cash Games