"Bdbeatslayer" Takes Down One of the Largest Online Poker Tournaments Ever
Published on March 8th, 2011 4:02 am EST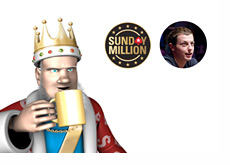 1. "durrrr Challenge" Update.
Tom "durrrr" Dwan and Daniel "jungleman12" Cates hooked up for a rare "durrrr Challenge" session earlier tonight.
The session was a very brief one, as Dwan and Cates managed to only play a couple hundred hands.
According to Cates' Twitter feed, "jungleman12" won about "120ish".
Here is where the second "durrrr Challenge" stands as of right now:
Hands Played: 17,456
Leader: Daniel "
jungleman12
" Cates, +$941,263.50
According to
Tom Dwan
, there should be some substantial action this week (fingers crossed). From Dwan's Twitter feed:
"Was hoping to play a long session with @junglemandan, but had some shit come up... Should be playing a bunch this week"
and
"Sorry to ppl railing and to @junglemandan for those 2 annoyingly short sessions"
With the World Series of Poker rapidly approaching, it will be interesting to see whether or not the second "
durrrr Challenge
" wraps up by the end of the summer (the smart money is on "no").
2. "Bdbeatslayer" Takes Down the Fifth Anniversary of the "Sunday Million".
Alright, a number of other sites have already covered this, so I won't rehash any of the hands at the final table, etc.
A few things, however, need to be mentioned about this tournament:
1. In July of 2009, Pokerstars set the record (again) for hosting the largest ever online poker tournament. 65,000 people ended up paying the $1 entry fee to participate in that event.
Yesterday's Sunday Million nearly broke that record (59,128 players), despite the fact that there was a $200 + $15 buy-in. That's completely ridiculous.
2. The $11.83 million prize pool for yesterday's event was the second largest in online poker history (the record is currently held by the 2010 WCOOP main event, which ended up with a prize pool of over $12.2 million).
3.
Pokerstars
generated nearly $900k in tournament fees for this event, and that's not counting all of the money that they made from the kajillion different satellites that they ran. Offering the Lamborghini Gallardo to the winner was a pretty savvy move by Pokerstars, and it definitely paid off.
4. The final table participants ended up agreeing to a 9-way chop - when was the last time that this happened in a major online poker tournament?
Anyways, congratulations to "
Bdbeatslayer
" on his new Lamborghini, and congratulations to Pokerstars for hosting such a ridiculously large event.
Photo: GreasieWheels.com
--
Filed Under:
Cash Games
|
Tournament Results
|
Online Poker Rooms