Part 1 of Daniel Negreanu vs Viktor Blom Battle Set for This Sunday
Published on March 19th, 2011 4:34 am EST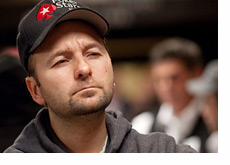 This Sunday, Daniel Negreanu and Viktor "Isildur1" Blom will lock horns in the first installment of their two-part "Superstar Showdown" match-up.
Negreanu and Blom, who will both begin play with $150,000, will wage war over four $50/$100 No Limit Hold'em tables. At the end of Sunday's 2,500 hand battle, the action will be paused until the following Sunday (assuming that neither player has busted their $150,000) when the final 2,500 hands of their "Showdown" will be played.
Assuming that neither player goes bust, "Isildur1" and "
KidPoker
" will be playing a total of 5,000 hands over two weeks. The winner will be the player who is ahead at the end of the 5,000 hand battle.
--
Daniel Negreanu
is taking his match against "Isildur1" very seriously.
In the days leading up to his match against "
Isildur1
", Negreanu has been taking on some very tough competition in order to prepare for Blom and his hyper-aggressive style.
Over the past few days, Negreanu has played both Isaac "
philivey2694
" Haxton and Daniel "
w00ki3z.
" Cates in order to sharpen his game. Not exactly the easiest of competition.
In the past few months, Negreanu has moved out of his comfort zone in order to eventually play "Isildur1". This has involved playing 3-4 tables of heads-up No Limit Hold'em against some of the very best young players in the world, and Negreanu seems to be making the transition nicely.
--
You have to give Daniel Negreanu a great deal of credit for his decision to throw his hat in the ring and take on some of the best young poker players in the world. He has willingly moved out of his comfort zone to take on poker's "young guns", all in an effort to improve his game.
Negreanu could have been content just playing in "live" tournaments and fulfilling his Pokerstars contract, but instead he is putting himself out there in order to continue to evolve his game. Negreanu openly admitted that he was out of his league when he first started playing in the high stakes cash games on Pokerstars, but he didn't care - he just wanted to improve as a poker player. How many high profile players would be willing to make themselves look foolish (at least initially) in order to improve their games? Not many.
--
Regardless of what happens against Viktor "Isildur1" Blom in their "Superstar Showdown" match, Daniel Negreanu will be a much better poker player for it.
--
Note: Negreanu has outlined his strategy for his battle against "Isildur1". You can
read it on his blog here
.
Note #2: The battle between "Isildur1" and Negreanu will get underway at 3 pm ET on Sunday.
Photo: GreasieWheels.com
--
Filed Under:
Cash Games