Published on May 25th, 2007 7:01 pm EST
Remember all those people that said "Online poker pros may be good, but they'll never be able to compete with live poker pros?" Remember those people who thought that the likes of Jimmy Fricke, Jeff Garza and Sorel Mizzi wouldn't be able to hold a candle to the Phil Hellmuth's and Barry Greenstein's of the world?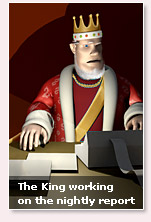 Well, 2007 is officially the year of those people being proven wrong. Online poker all-stars have switched over in large part to live poker (largely coinciding with the implementation of the UIGEA), and the results have been catastrophic, if you are a "live poker pro." Here are just a handful of the results from 2007 in which young, online poker superstars flexed their muscles and completely dominated the tables:
"Daut44" capturing the 2007 PCA
Jimmy "Gobboboy" Fricke coming in second at the Aussie Millions
Jared "Wacokidd" Hamby dominating and winning multiple big live tournaments
Sorel "Imper1um" Mizzi chopping for 2nd place money at the Irish Poker Open, and then placing high at the WPT Championship
Jeff "Actionjeff" Garza taking down the Short-Handed No Limit Hold'em championship at the Johnny Chan Poker Classic
"FieryJustice", "UGOTPZD" and "Gigabet" finishing 1,2 and 3 at the WPT Mirage Poker Showdown
"UGOTPZD" taking down another recent tournament
"Zeejustin" Justin Bonomo owning tournaments left right and center at the beginning of the year
Will Ma winning the Grand Prix de Paris
"Partypsux" JUAN CARLOS ALVARADO placing high in a number of tournaments in 2007
The list goes on and on. I am probably missing a great number from 2007.
The end result is the same. In my opinion, online poker pros are much better than live poker pros, due to the sheer volume of hands that they play and situations that they find themselves in. Plus they are really, really smart.
In my opinion, the World Series of Poker will be more of the same. I believe that well-known online players will account for 10 bracelets at the WSOP this year. GG Live Poker players.
--
Filed Under:
Miscellaneous King Articles