Authorities Continue Investigation; No Charges Have Been Laid
Published on January 20th, 2014 4:29 am EST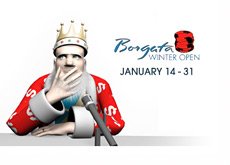 On Friday morning, tournament officials at the Borgata Winter Poker Open announced that Event #1 ($560 Big Stack No Limit Hold'em Re-Entry $2 Million Guarantee) of the series had been suspended.
The reason? Borgata officials said that they believed that the event had been "compromised" following the discovery of approximately 1 million in fake chips. At some point over the course of the multi-day tournament, one or more people introduced these fake chips into the tournament in order to gain an unfair edge over the other players.
Play in Event #1 was down to just 27 players, with Allard Broedelet and Nick Guagenti sitting as the tournament chip leaders. Shortly before the start of Day 3 on Friday, play was halted while the Borgata and the New Jersey Division of Gaming Enforcement conducted a joint investigation.
--
The Borgata announced earlier this weekend that the tournament had been cancelled, with any remaining prize money being frozen and held in trust until the matter can be resolved.
Here is what the President of the Borgata, Tom Ballance, had to say:
"Thus far, investigators have found that one or more tournament entrants improperly introduced a significant number of counterfeit chips into the tournament, gaining an unfair advantage and compromising the integrity of play for the event. It is extremely unfortunate that the criminal actions of these individuals can have a detrimental impact on more than 4,000 other entrants. We fully understand and regret the disappointment this cancellation causes our valued customers, and we will work diligently with DGE investigators to resolve the situation as quickly as possible. The integrity of our games and the confidence of our players is of the utmost importance to us."
--
Other events at the Borgata Winter Poker Open have proceeded as planned, as the Borgata has ensured that their existing stock of chips is 100% authentic. That being said, many of the players at the series are still quite shocked about what took place.
--
The Borgata and NJ DGE continue to investigate - no charges have been filed as of yet.
Source: Philly.com -
Borgata Ends Fake Chip-Tainted NJ Poker Match
--
Filed Under:
Miscellaneous King Articles