Published on July 25th, 2007 5:25 pm EST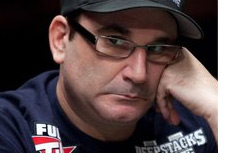 The final cards were dealt at the Bellagio Cup III Main Event. Mike Matusow, the short stack, was all-in with a straight flush draw after the flop, against Kevin "Belowabove" Saul, who had been slow-playing a pair of queens. Matusow missed his huge draw and had to settle for second place in the Bellagio Cup, which was worth over $670k to him.
For most people, this would be a substantial chunk of change with which to pay off their mortgage. For Matusow, it was a chance to get completely square on his debts. Matusow has been playing well as of late, and has been slowly paying off his debts. This score was enough so that he could pay off the people he still owes money, and keep $50k for himself. As a matter of fact, Matusow's lenders followed him to the cage, where he collected his second place prize and then dished out almost all of the money to his lenders. Matusow was disappointed that he didn't win, because then we would have kept much more money for himself. However, he was extremely excited to get out from under the boot of his lenders, and is now free and clear when it comes to debts.
Matusow has been on top of the world after his win, even though he only cleared $50k. As anyone who has ever owed money knows, it is almost sweeter to pay off your existing debts than to pad your bankroll. For Matusow, who has been in debt for years, the Bellagio Cup III was an especially sweet moment. The "Mouth" owes no more.
Photo: GreasieWheels.com
--
Filed Under:
Players In The News