Published on August 3rd, 2007 8:01 pm EST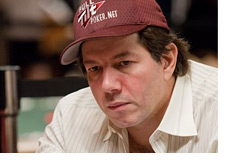 When you play high stakes poker against some of the best players in the world, you need to prepare yourself for some pretty major variance.
David Benyamine is a great example of that. His bankroll is in a constant state of fluctuation. Benyamine was well-known as one of the best high limit PLO players in the world, and a respectable high limit No Limit Hold'em player as well.
He destroyed his competition on Full Tilt Poker and Pokerstars, acquiring a bankroll in the millions. He seemingly had the perfect life; millions of dollars in his bankroll, an ultra-hot poker-playing girlfriend, and the perfect lifestyle. Hours upon hours of online poker followed by high limit games in Vegas at night.
The past 5-6 months have not treated Benyamine kindly. He has been a major loser in the high stakes games on Full Tilt Poker, and has dropped even more money in the Big games that took place in Las Vegas during the World Series of Poker.
It has been rumored that Benyamine is in some pretty major debt to other poker players, including Patrik Antonius, but this is unconfirmed.
What is confirmed is that the days of Benyamine playing the highest limit games on Full Tilt Poker with massive stacks are over. Benyamine either buys in for the minimum over multiple tables, or plays just one table at a time. Recently, Benyamine has dropped down significantly, playing lower limit games in order to build up his bankroll.
Can he rebuild his bankroll? Can he repay his debts, if he is in fact owing a bunch of money?
Photo: GreasieWheels.com
--
Filed Under:
Miscellaneous King Articles