Published on August 8th, 2007 5:25 pm EST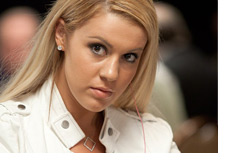 March 13th, 2008 Edit - For an up to date story on Jennicide / Playboy, click here:
Jennifer "Jennicide" Leigh to Appear in May Edition of Playboy
Rumors have been swirling for a while as to whether or not Jennifer "Jennicide" Leigh was soon going to appear in a fall edition of Playboy magazine. According to multiple online sources, a photo shoot is reported to have gone down sometime this summer, and "Jennicide" will be gracing the pages of a fall edition of Playboy. This is unconfirmed still at this time officially, but we have heard it from enough sources to think that it might be true.
"Jennicide" is a well-known poker player who really rose to prominence when she played the higher level Limit games on Pokerstars. Combine her poker playing prowess and her beauty and you have a perfect candidate for Playboy magazine. Likely she drew the attention of Playboy after appearing in FHM earlier this year, dressed in lingerie. Leigh has reportedly decided to take the next step and bare it all.
If Leigh does in fact appear in Playboy magazine, you can bet that it will be an extremely popular edition with the online poker crowd. Can Playboy lure some of the other popular female poker players to appear in their magazine? Are there any other players that you would want to see pose for Playboy?
Photo: GreasieWheels.com
--
Filed Under:
Players In The News