"All In Pav" Up Almost $50,000 in 2019
Published on February 9th, 2019 2:05 am EST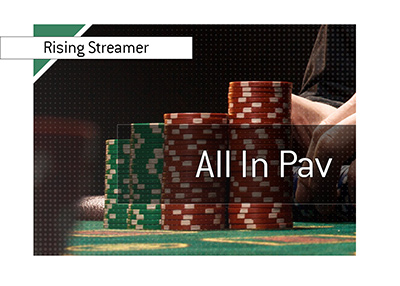 Hristivoje Pavlovic, known to many as "All In Pav" on Twitch.tv and various poker sites, is on an absolute tear to start 2019.
"Pav", who is the self-styled "Content King" thanks to the tremendous amount of streaming content that he produces, is up $49,426.06 to start 2019. This follows on the heels of a very strong 2018 in which he earned nearly $150,000 USD.
"Pav" is proof that it is still very possible to earn a living playing poker in 2019, provided that you are willing to put in the work.
-
"Pav" has parlayed his strong results and charisma to become one of the most popular poker streamers on Twitch.tv. Pavlovic regularly has over 1,000 simultaneous viewers, and it seems like it's just a matter of time before he joins the likes of Lex Veldhuis and Parker Talbot (aka "tonkaaaap") as the most followed poker streamers in the world.
Twitch.tv viewers flock to streamers who stream regularly and produce strong results while also engaging the audience, and "Pav" manages to do all three.
-
"Pav" potentially faced the end of his poker career when Australia brought the hammer down on online poker in the country. "Pav" had a choice to make - leave his home country or find something else to do with his life.
Pavlovic chose to move to New Zealand to continue his online poker career, joining the likes of Patrick "Iregption" Tardif, Henri "Buehlero" Buehler and Travis "DramaticDegen" Darroch in a "Streamhouse". The change of scenery would be a smart career move, as Pavlovic would rack up nearly $150,000 USD in profit in 2018, including six profitable months in the "Streamhouse".
Once the six-month lease on the "Streamhouse" was up, the four men went their separate ways, with Pavlovic choosing to remain in Auckland, New Zealand. The strong results have continued, with "Pav" notching nearly $50,000 USD in profits to start the year.
In addition, "Pav" received a "Platinum Pass" and was able to participate in the PSPC.
All in all, it was an incredible 13 month stretch for the man they call "All In Pav".
-
Given his strong results, consistent streaming schedule and overall marketability, it seems to be just a matter of time before "Pav" scores a sponsorship deal.
Source: Twitch.tv -
All in Pav
--
Filed Under:
Players In The News