"Ivey Room" at Aria Renamed "Table 1"
Published on February 24th, 2019 1:30 am EST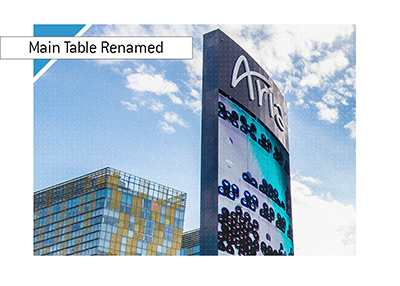 In May of 2010, the Aria opened a high-stakes, semi-private poker room that they called "Ivey's Room".
The idea was to use Phil Ivey's star power and connections in the poker world to drive much of the high stakes poker business in Las Vegas to the Aria. It was a big deal at the time, with Ivey saying that the move by the Aria meant "everything" to him.
It seemed like a no-brainer at the time, as Ivey's star in the poker world was never brighter.
Things change, and earlier this week the Aria changed the name of the "Ivey Room" to "Table 1".
Nine years ago, it would have seemed hard to believe that Aria and Ivey could ever fall out, but that is exactly what happened.
The Aria is owned by MGM Resorts International, which also owns the Borgata.
The Borgata is currently chasing Ivey down for over $10 million right now, as that was the amount of the judgment that the Borgata won against Ivey in their "edge sorting" case. The Borgata wants their money from Ivey, and they are currently looking in both New Jersey and Nevada, trying to track down any assets that Ivey might have in either of those two states.
Given these circumstances, leaving Ivey's name up on their high-stakes poker room would seem pretty silly for the Aria, so they took it down earlier this week.
-
Things have certainly take a turn for the worse for Phil Ivey since the "Ivey Room" first opened its doors in 2010.
First, "Black Friday" occurred in 2011, which resulted in Full Tilt Poker temporarily closing their doors, erasing a $900,000+/month income stream for Ivey practically overnight.
After that, Ivey would lose court cases against both Crockfords and the Borgata, which resulted in him potentially losing out on $20 million (if the Borgata is eventually able to collect). With the Borgata pursuing Ivey's assets in Nevada, there is a chance that we never see him again at the World Series of Poker in Las Vegas.
--
Filed Under:
Players In The News