The Days of the Traditional Poker Sponsorship Are Over
Published on May 29th, 2019 7:22 pm EST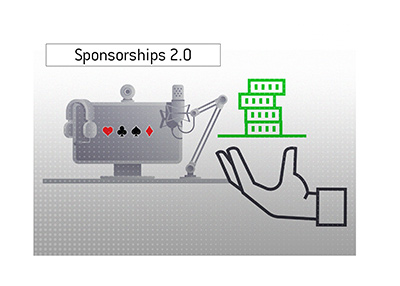 Back in the days of the "poker boom", going deep in a major tournament like the World Series of Poker main event meant an almost certain sponsorship deal from the likes of Pokerstars or Full Tilt Poker.
Even going deep in a smaller WSOP event, as long as it was televised, meant that you were likely to receive a $XX,XXX offer in exchange for wearing a patch for an online poker room.
Those days ended long ago.
While those deals were no longer offered, professional poker players like Daniel Negreanu still carried a great deal of weight in the industry, and they could ask for lucrative sponsorship deals. I'm not sure what the exact terms of Negreanu's sponsorship deal were with Pokerstars, but there is no doubt that he was very well compensated.
While the reasons for Pokerstars and Daniel Negreanu parting ways will likely never be known by the public, you can take an educated guess as to what likely happened. Perhaps Negreanu signalled that he would be wanting to spend more time at home with his new wife, Amanda Leatherman, so he would no longer be able to travel as much or do as much promo for Pokerstars. Perhaps Pokerstars offered Negreanu a renewal of his deal, though with significantly worse terms. Given recent events at Pokerstars and recent comments by Negreanu, these possibilities seem likely to me.
While Negreanu served as the face of Pokerstars for years, there is no denying that they are diversifying away from what has worked for them for years - poker. Poker is stagnating, and all of Pokerstars' growth is coming from their casino and sports betting products. The company recently entered into a joint venture with Fox Sports, with the two sides launching "Foxbet" in the near future. This deal represents the future of Pokerstars.
Pokerstars' future growth will come from their sports betting and casino offerings, and it is hard to see how Negreanu staying with the company would have really moved the needle in terms of bringing new customers to the site.
Instead of spending money on traditional poker sponsorships, Pokerstars likely believes that there is more value in advertising their sports betting and casino offerings instead.
-
Poker sponsorships are still available for the taking, though they are largely being given out to online players who have large followings on Twitch. This is a relatively new market for the online poker sites, and they are hoping to convert online gamers into online poker players.
If you are a poker player that has made a name for yourself on the live tournament circuit, you are likely going to have an extremely hard time getting sponsored by one of the big sites such as Pokerstars or partypoker.
The days of the poker sponsorship "gravy train" are likely over unless you can bring some sort of unique audience to the table.
--
Filed Under:
Miscellaneous King Articles