Published on October 5th, 2007 5:35 pm EST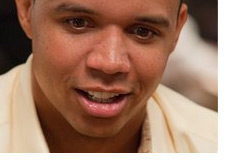 By now, you have probably heard about the Chris Ferguson bankroll challenge, where he attempted to turn $0 into $10,000 playing online using strict bankroll management (he eventually succeeded.) Chris started out by playing freerolls and slowly moved higher until he finally accomplished his goal of hitting $10k.
Phil Ivey now seems to want to one-up Chris Ferguson by doing a challenge of his own.
Can he turn $5000 into a million dollars without busting?
You would have to think that there would have to be a LOT of side action to get Phil Ivey to attempt this challenge. I am sure that Ivey would have no problem getting action, and Chris Ferguson has himself said that he would probably make a bet on the challenge. Given the amount of degenerate side action that takes place between Ivey and his friends, I am sure that there could easily be a million dollars in side bets wagered on this challenge.
It is unknown whether or not there would be a time deadline, or if Ivey could take as much time as he wanted to complete the challenge.
The big questions are: will there will enough side action to get Ivey to actually take this challenge seriously? And can he actually do it? Given that he usually plays at such nosebleed stakes, could he play at lower stakes and have the discipline not to blow his $5000?
Photo: GreasieWheels.com
--
Filed Under:
Players In The News