Published on November 18th, 2007 6:21 pm EST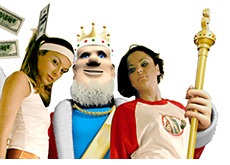 A pretty popular message board topic is to speculate as to the net worth of the most famous poker players in the world, both online and "live."
While it can be fun to try and guess as to what each player is worth, there are several key details that most people overlook.
First off, some people will look at a player's total tournament cashes and automatically assume that someone is a multi-millionaire just because they have $3 million dollars in lifetime cashes.
Though they may very well be millionaires, oftentimes they are not. First off, staking is much more prevalent than you think in live tournament poker. At any major tournament, you can have as many as 50% of the "name pros" being staked for the tournament. So right off the bat you need to question how much of their $3 million in total cashes they actually got to keep. I mean, you probably didn't know that Annette "Annette_15" Obrestad was staked by the Bax/Sheets empire for the WSOPE Main event, and had to fork over 50% of her winnings. As I said, staking is everywhere in live tournament poker.
After that, you have Uncle Sam, who is going to take his cut. Also, if the player travels around playing live tournaments, this will take a serious dent out of their bankroll. They will have to fork over money for tournament buy-ins, hotels and airline tickets. It's not much of a stretch to think that someone with $3 million in cashes could have nothing left after staking, expenses and taxes.
Also, debt is everywhere in poker. It seems like everyone owes money or is owed money. There are players out there that are technically worth millions and millions of dollars, but are owed millions of dollars by other poker players. Money that they may or may not get back.
Also, many well-known poker players are gamblers in the truest sense of the word. Many millions of dollars are won and lost on the golf courses of Las Vegas, and many millions are lost playing craps, roulette and other table games in Vegas. Some players will win millions of dollars in tournaments and then dump this money off at the high limit table games in Vegas.
Also, just because you see a poker player playing with a $500k stack in front of them on High Stakes Poker, doesn't necessarily mean that they are worth tens of millions of dollars. They are either playing way of their bankroll, or they are being staked or at least partially staked to sit at the table. Some of the players at the tables on High Stakes Poker are certainly worth tens of millions of dollars, but some aren't worth nearly as much as you would think.
The last consideration to take into account when trying to figure out the net worth of well-known players is their outside business interests. Some of the most well-known poker players are also extremely savvy businessmen. Phil Hellmuth, love him or hate him, has to have a very large net worth due to his business interests. Players like Eli Elezra and Sammy Farha are wealthy outside of poker due to their numerous business interests.
Players such as Phil Ivey, Chris Ferguson and Howard Lederer are worth millions of dollars on paper due to their equity stakes in Full Tilt Poker. Full Tilt Poker has to be worth at least a couple billion dollars, and these players (and others) all have substantial equity stakes in the company.
Many players also have a respectable poker bankroll that is dwarfed by the value of their real estate holdings.
In the end, there are many, many factors that would determine the net worth of a player. I suspect that many players have either a much smaller or much larger net worth than most people would think.
--
Filed Under:
Miscellaneous King Articles