Published on November 22nd, 2007 4:18 am EST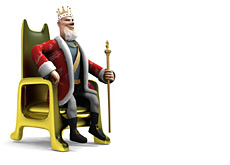 First off, Happy Thanksgiving to all of our American readers. We hope that you have a great day filled with football, turkey and plenty of poker playing.
Anyways, here is your Thanksgiving Poker news and gossip report:
-Daniel Negreanu to make big announcement? In Negreanu's last blog posting on Full Contact Poker, he included this rather cryptic paragraph that has the online poker community buzzing:
"On a totally unrelated note, the next blog I write is going to be very different than anything I've ever written before. I considered writing it now, but I wanted to give it some time so I can really think about what it is I'm saying and what the best way to say it is. It's kind of a good news/bad news blog in a sense, although I prefer to see it as a very good thing and a positive step in my life. I'd explain further but the only way to do that would be to just write the blog now and Iím not going to do that."
Many are speculating as to what the announcement will be. Moving away from Vegas? Personal changes in his life? Negreanu has said that he will write the blog within the week, so we'll just have to keep guessing until then..
-Oops! Seems as though the GSN accidently released Episode 15 of High Stakes Poker today to Youtube.com. The episodes were quickly taken down, but not before many people managed to catch a glimpse of episode 15. We don't want to spoil anything, but there is a MONSTER pot involving Guy Laliberte and David Benyamine. From what we saw, this should be the episode of the season so far.
-Gus Hansen continues to be one of the biggest winners online in the month of November, as he has been crushing the high limit Pot Limit Omaha games on Full Tilt Poker
-also, KobyTAPOUT has returned to Full Tilt Poker over the past few days and has been absolutely KILLING it and has been on a major heater. As I write this, he is sitting on a $188k stack and a $261k stack on two separate PLO tables on Full Tilt Poker
-speaking of Full Tilt Poker, where's David Benyamine these days?
-a bit late, but Nat Arem has posted a two part report on his trip to Absolute Poker's offices in Costa Rica. The link is
here
That's about all for tonight. To all our American readers, happy Thanksgiving!
-speaking of Full Tilt Poker, where's David Benyamine these days?
--
Filed Under:
Miscellaneous King Articles