Published on December 4th, 2007 2:59 pm EST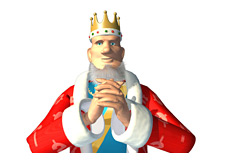 Reports are circulating this morning that Chip Reese was admitted to a Las Vegas area hospital last night with symptoms of pneumonia, and died in his sleep. Reese was 56 years old. Our hearts go out to his family and close friends.
David "Chip" Reese was easily one of the most respected poker players on the planet, with Barry Greenstein referring to him as the "Jack Nicklaus of Poker." Reese was a fixture at the "Big Game" in Las Vegas, and according to many reports, won the most money of any player at the game. Many considered Reese the best all-around poker player in the world.
Reese was born on March 28, 1951, and learned to play poker as a small child when he was home from school, suffering from rheumatic fever. He enjoyed competition, competing on his high school football and debate teams.
He attended Dartmouth College where he majored in economics. He was admitted to Stanford Business School, but decided not to attend after winning $40,000 in a Las Vegas poker tournament. At this point, Reese decided to play poker professionally and never turned back.
Reese won three World Series of Poker bracelets, including the $1000 Seven Card Stud Split event in 1978, the $5000 Seven Card Stud event in 1982 and the $50,000 H.O.R.S.E. event in 2006. In 1991, Reese was the youngest player to ever be inducted into the Poker Hall of Fame.
Reese was successful at pretty much everything that he did. He reportedly made tens of millions of dollars betting on sports as part of a sports-betting syndicate; he had almost $3 million dollars in life-time tournament cashes, and he won countless more millions playing cash game poker. There is a reason why Reese is a legend in Vegas.
The poker world has lost one of its legends. RIP Chip Reese. Our thoughts go out to his family and friends.
Source:
Wikipedia
--
Filed Under:
Players In The News