Published on December 7th, 2007 3:05 am EST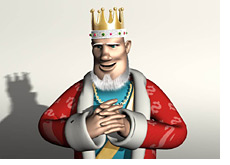 The entire Sorel Mizzi situation recently has sparked an interesting debate online: was his punishment too excessive? He clearly broke the rules, as did Chris "BluffMagCV" Vaughn, but do both players deserve to be banned for life from Full Tilt Poker?
I have my own opinion, but I'm not going to share it here. This article is simply posing a question.
"JJProdigy" cheated. Justin "Zeejustin" Bonomo cheated. Sorel "Imper1um" Mizzi cheated. They were all banned from at least one of the major online poker sites. "JJProdigy" and "Zeejustin" were caught multi-accounting. "Imper1um" was guilty of buying an account of another player late in a tournament from which he had already been eliminated.
All of them were caught and banned for life from the sites that they cheated on. All lost significant sums of money. All of them were publicly ridiculed.
And all of the players were no older than 21 years old when they were caught and banned.
You have one side of the argument that says that these guys are all of above average intelligence, and knew exactly what they were doing. They knew that it was wrong, and they knew that they were cheating their fellow player. They deserve to be banned for life, and by banning them from life and seizing their funds, you are deterring any other would-be cheaters. A zero-tolerance policy is the best way to police the sites and keep the game as clean as possible. That is one side of the argument.
The other side says that everyone makes mistakes, especially people that are barely out of high school. They say that these players lose tremendous sums of money when they are caught and also lose the respect of the poker community. They are ostracized and ridiculed. They say that most kids make mistakes when they are young, and that a lifetime banning for a first offense is excessive. If you are caught driving drunk, or even murder someone, you are given a second chance by society most of the time, so why shouldn't you be given a second chance by an online poker room?
What do you think? If you are found guilty of multi-accounting or purchasing an account late in a tournament, should you be banned for life? Or do you favor a system that severely penalizes a person for a first known offense, and then bans them if they become a repeat offender?
Do you ban a first offender for life? Or do you feel that punishing someone say, ten years after the fact, is a bit excessive? If Sorel Mizzi still can't play on Full Tilt Poker when he is 41 years old, 20 years after the fact, do you feel that this is fair or unfair?
--
Filed Under:
Miscellaneous King Articles