Published on December 9th, 2007 2:20 am EST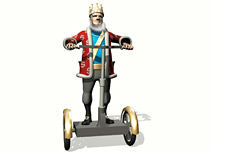 If you had to choose one poker player under the age of 30 that had the best year in 2007, who would it be? If you had to take into account both live tournament success and online tournament success, who would stand out as your number one player in all of 2007? If you had a gun to your head and had to choose one player (of course it's diplomatic to say that they all had great years, and you can't choose), who would it be?
Here is a list of nine players that all had a great year in 2007, followed by my choice for the top player in 2007:
1. Jonathan "FieryJustice" Little - absolutely tore up the live tournament scene in 2007. Took down the WPT Mirage Poker Showdown for just over a million dollars, and came in second at the WPT North American Poker Championships for around $700k. Throw in a fifth and a seventh at two additional WPT events in 2007 - "Fieryjustice" had an absolute monster of a year in live events.
2. James 'Corwin' "mig.com" Mackey - won a bracelet at the 2007 World Series of Poker in the $5k No Limit Hold'em event at the ripe age of 21 years old, banking over $700k for the victory. Follows this up with a $580k win in the WCOOP $1050 buyin, No Limit Hold'em event on Pokerstars. Had a number of other five digit online cashes in 2007.
3. Annette "Annette_15" Obrestad - takes down the 2007 WSOPE event for over $2 million dollars. Follows this up a month and a half later with a second place finish at the EPT Dublin event. Dominates online for a good portion of 2007. Takes down the $500k Guaranteed on Full Tilt Poker for $117k, the Sunday Mulligan for $34k and countless other tournaments in 2007. Dominated online and dominated live in 2007.
4. Sorel "Imper1um" Mizzi - chops the Irish Poker Open in April three-handed. Goes deep in the $25k WPT Championship a few weeks later for over $150k. Takes down the Sunday Warm-up on Pokerstars for almost $110k. Has taken down the High Stakes Showdown 4 times so far according to my count. Countless other cashes online.
5. Chad "LilHoldem954" Batista - fifth in the $1k No Limit Hold'em event at the WSOP. Had arguably the best year of any player online in 2007 in tournament poker. Took down the $1 Million Guaranteed tournament on Full Tilt Poker on July 15th for $212k. Took down the Super Tuesday on Pokerstars for $91k, and the $1k Monday event on Full Tilt twice for a combined $135k. Took down countless tournaments in 2007, dominating the high limit rebuy tournaments.
6. Scott "BigRiskky" Clements - Hard to touch his live poker results in 2007. Took down the 2007 North American Poker Championships (WPT) event for $1.5 million. Won a bracelet in a $1500 Pot Limit Omaha event in June. A number of other impressive final table appearances. Couple of five figure cashes online, including 12th place at the WCOOP main event.
7. Scott "ScTrojans" Freeman - Went deep in the 2007 WSOP Main event, finishing 19th for a cash of $333k. Had one of the best years of anyone online. Won the $1k Monday tournament on Full Tilt and multiple other tournaments online in 2007. Hard to find a player that had a better year online than Scott Freeman in 2007.
8. Kevin "BeLOWaBOVe" Saul - took down the $10k Bellagio Cup WPT event for $1.3 million. Took second in a $3k No Limit Hold'em event at the Bellagio Five Diamond recently for almost $180k.
9. Jared "TheWacoKidd" Hamby - had a very solid year online but an absolutely ridiculous year playing live poker. Took down two events at the Five Star World Poker Classic in April, took down the $1k No Limit Hold'em event at the Mirage Poker Showdown in May, and came in second at the 2007 Mandalay Bay Poker Championship (WPT) for almost $460k. Well over a million in live cashes in 2007.
Other young players had great years in 2007 as well. Ryan Daut, Jimmy Fricke and Steve Billirakis just to name a few. The list above is by no means a complete one, however, I believe that the top young player in 2007 is certainly one of those nine players that I listed above.
Who gets your vote?
My personal opinion is that Annette "Annette_15" Obrestad had the best year of any of the people that I mentioned. Her WSOPE win was historic, so I give her extra points for that. She had a fantastic year online, and came within a hair of taking down two major live events in her first year of playing live. I have to give the nod to "Annette_15."
--
Filed Under:
Miscellaneous King Articles