Published on December 11th, 2007 7:01 pm EST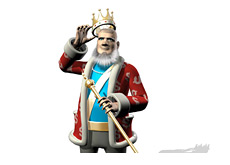 Here is a list of ten impressive tournament accomplishments in 2007. This is by no means a complete list, just something to start the debate.
Which feat impresses you the most? Which feat would be the hardest to duplicate?
1. Greg "DuckU" Hobson wins back to back Sunday Majors on Full Tilt Poker. You can take any player in the world and it would be virtually impossible to repeat this accomplishment. Not only do you have to be a great player, but you need a great deal of luck as well. Navigating two very large tournament fields, stacked with great players and donkeys, and avoiding enough bad beats to take down the tournament two weeks in a row? Nearly impossible.
2. Mike Binger / Chad Brown tie for most cashes at the 2007 World Series of Poker with eight each.
3. Tom Schneider - two World Series of Poker bracelets and one final table at the 2007 WSOP.
4. Annette "Annette_15" Obrestad - takes down the 2007 WSOPE while still a teenager. Then, a month and a half later, finishes second at the Dublin EPT.
5. David Pham - four victories and eleven final tables just in 2007 alone.
6. Jared Hamby - six final tables in 2007. Three victories, including two victories at the Five-Star World Poker Classic within a week.
7. Phil Hellmuth - six cashes at the 2007 World Series of Poker, including his record-breaking 11th bracelet
8. Jon "FieryJustice" Little - nine final tables in 2007, including a victory in the Mirage Poker Showdown main event for over a million dollars, and a second place finish at the North American Poker Championship Main Event.
9. Bill Edler - seven final tables. Three victories, including a WSOP bracelet and a WPT title.
10. JC Tran - five final tables. Dominated the WPT events, finishing 6th at the World Poker Open, 2nd at the LA Poker Classic, and 1st at the World Poker Challenge, all within a two month stretch
In terms of feats that are hardest to duplicate, I would have to say that Greg Hobson's accomplishment is the most impressive of the ten on the list. A great poker player could go a lifetime without winning back to back Full Tilt Poker major tournaments. Obviously Hellmuth's eleven bracelets are the most impressive overall, but he has accumulated these bracelets over years of play.
What do you think? Which of these feats impresses you the most?
--
Filed Under:
Miscellaneous King Articles