Published on December 28th, 2007 11:25 pm EST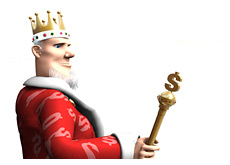 2007 was an extremely eventful year. We had the continuing fallout from the UIGEA, which was added to the SAFE Port Act and passed in the latter part of 2006. We had new allegations of cheating involving well-known players almost every month. We had a major online poker site that admitted that some of its employees had been using a "superuser" account to defraud the other players on the site. We also had a historic victory by one of online poker's most popular young players.
So what was the biggest story of 2007? There were many contenders, and your top ten list may be different from mine.
10. Phil Hellmuth Wins 11th Bracelet. Love him or hate him, you can't deny that Hellmuth is a great tournament player. At this year's WSOP, Hellmuth passed both Chan and Brunson to take the lead with eleven career WSOP bracelets.
9. Jerry Yang wins the WSOP. I am sure that he is a nice guy, but Yang (and Gold the year before him) has been an absolute disaster in terms of marketing the game.
8. Bodog Domain Dispute. Bodog had their most valuable domain names sniped by 1st Technology after 1st Technology won a big default judgement against Bodog for patent infringement. Bodog.com became newbodog.com which then became bodoglife.com. Bodog launched an aggressive legal campaign to get their domains back, and we'll hear more about this story in the New Year.
7. FTP Bot Busts. FTP made two major Bot busts this year. Some of the more high profile accounts that were disqualified due to suspected bot use were "BeatMe1" and "Japinthesack." Again, we'll hear more about Bots in 2008, this issue isn't even close to being resolved.
6. Neteller. After months and months of waiting, American customers who had money frozen in Neteller were finally able to withdraw their funds. The good news is that people got their money back; the bad news is that one of the most popular ways of getting money on and offline was taken away for Americans. Many e-wallet companies stopped servicing American customers or shut down completely.
5. Online poker adapts, bounces back. The beginning of 2007 was filled with doom and gloom about the industry. With no real way for Americans to get money online, how would the online poker industry continue to prosper? Well it's now the end of 2007, and if you want to get money onto a site such as Pokerstars or Full Tilt Poker, you can. The industry keeps getting hit with potentially crippling news and keeps adapting and bouncing back. I am not sure what else you could throw at the industry now that it hasn't already dealt with.
4. Annette "Annette_15" Obrestad Takes Down WSOPE Main Event. Historic for a number of reasons. First woman to win a WSOP main event. First teenager to win a WSOP event of any kind. First winner of the WSOPE main event. Annette's victory was great for the game of poker and should go a long ways towards increasing the popularity of the game, especially in Europe.
3. TheV0id is disqualified. TheV0id takes down the WCOOP main event and then is disqualified by Pokerstars a few weeks later. Pokerstars is tight-lipped about the reasons why they disqualified TheV0id. Lawyers were soon hired and legal action commenced. We'll hear more about this story in the New Year as well.
2. More Cheating. More Multi-Accounting. More Bannings. JJProdigy openly admits that he has been actively multi-accounting since being banned in 2006. Sorel "Imper1um" Mizzi is banned from Full Tilt Poker after taking over the account of Chris "BluffMagCV" Vaughn late in a Full Tilt Poker Sunday major tournament. The list goes on and on. 2007 clearly illustrated (to me anyways) that there is far too much incentive to cheat and not enough of a deterrent.
1. The Absolute Poker Scandal. In terms of general interest, the Absolute Poker scandal is second to none. Traffic on this site and many others went through the roof when this story was breaking. The story seemed to have a new twist almost daily, with the online poker community doing a tremendous amount of detective work that forced Absolute Poker to finally admit that there was indeed a major problem, and that a couple of Absolute Poker employees had access to a "superuser" account, and had exploited it to their benefit. Without a doubt the Absolute Poker scandal was the top story of 2007.
--
Filed Under:
Miscellaneous King Articles